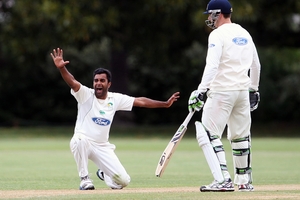 THE TEST in first-class cricket isn't all about how you use your bowlers or how you set your field if you are the captain.
It's also about taking risks in declarations - not just any proclamation but an educated one - to yield a result over four days.
That time didn't come for Devon Hotel Central Districts Stags skipper Kieran Noema-Barnett and his Wellington Firebirds counterpart James Franklin yesterday but it most certainly will start nagging them later today.
With some sunshine at the Hawkins Basin Reserve, Wellington, yesterday, the verdict is the wicket is beginning to flatten out for day three of the four-day Plunket Shield match.
"We have 200 overs left so one or both of the captains will have to make a play for it if they want a result," CD legspinner Tarun Nethula said last night after the hosts were 149-2 after 46 overs, still trailing the visitors by 140 runs with No3 Stephen Murdoch unbeaten on 59 and No4 Michael Pollard not out 1.
Nethula got the prized wicket of Michael Papps for a conservative 62 runs while Black Caps seamer Doug Bracewell claimed the scalp of first-ball opener Josh Brodie cheaply for 16.
Nethula, who has moved from Hawke's Bay to Manawatu this summer, said they still had two days of play remaining, considering the Stags were 163-3 at the corresponding stage of their first innings on a rain-interrupted day one.
"We are a little behind the eight ball than them so we'll have to be level pegging first," he says of the defending shield champions.
CD added 81 runs in another delayed start yesterday before the Jamie Siddons-coached Wellington cleaned up a tail order that Nethula rightly pointed out weren't rabbits by any yardstick.
Ex-Black Caps wicketkeeper Kruger van Wyk scored 39, Bracewell 25, Nethula 17 and Ben Wheeler 14, so in the scheme of things they may all add up to make a difference come crunch time.
"Dougie and Kruger are hardly tailenders so we had full faith in them to do well, if not better.
"When Dougie's batting at [number] eight then you have strong line up that bats deep," he said, adding the pair started well but Mark Gillespie taking the new ball "hurried things up".
But, really, that first spell yesterday belonged to ex-international Gillespie boosting an overnight 2-43 to finish with an enviable 6-77 from 21.4 overs, including three maidens.
Brent Arnel was the more economical of the pair, taking 4-77 from 28 overs, including five maidens.
Starting well, especially with the "new ball around the corner" today, is imperative for CD.
"Most day 3 wickets are batsmen friendly so it won't be a first-day bowler friendly one," he said, labelling it a typical Basin Reserve strip that has yielded 1371 runs off the bat in the first shield outing.
"Hopefully it'll rain tonight to be nice and juicy for Dougie, Wheels and Matho [Andrew Mathieson] tomorrow."
Nethula suddenly left Cornwall Cricket Club for Palmerston North this year, leaving many in the Bay in the dark over why anyone would go to a wet part of the country when others were arriving here in droves to make the most of the balmy weather.
"I had no real reason but I have a close family friend, a doctor, who works at the Palmy hospital so I'm staying with him."
He felt the Stags structure enabled anyone to work from any of the scattered CD region.
"Manawatu have a great set up. They have a great culture of producing Stags players."
Nethula said he got to bowl almost 30 overs in the Chapple Cup tournament in Napier just before the domestic season and there was no guarantee of that in the Lincoln Doull-coached Property Brokers Hawke's Bay side.
The legspinner still harbours hopes of breaking into the Black Caps squad but emphasises if he takes care of CD business then everything else will fall into place in the bigger construction works.