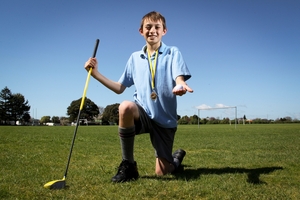 Disabilty is not inability, says Guy Harrison, who claimed the 2013 National Community Trust Annual Intermediate Schools (Aims) Games golf title in Bay of Plenty a fortnight ago.
Diagnosed with cerebral palsy at the age of 3, the Tamatea Intermediate pupil won the taxing four-day event in Tauranga by 17 points from hometown peer Liam McFarlane.
Playing off a 28 handicap, Guy, who still wears night splints and has physio treatment once a week, blitzed the courses at Omanu, Omokoroa, Tauranga and Mount Maunganui, scoring 177 stableford points.
The 12-year-old started playing golf at the age of 5 on the advice of his physiotherapist and occupational therapist. They urged the Year 7 pupil to walk long distances or else become wheelchair-bound for the rest of his life.
His father Keith, a teacher at Napier Boys' High, is a social golfer. "My wife Vickie and I discussed various options and decided on golf," Keith says.
"I bought him golf clubs and he joined me when I played. He absolutely loved it. Now he plays golf, swims and participates in athletics."
Guy, who is coached by Maraenui Golf Club professional Jeremy Carlsen, says: "I must admit I was nervous when I started playing against other kids.
"At the same time, I was excited as I was beginning to play well and really enjoying myself. Once I am on the course, I forget about my disability.
"My message to others who suffer from cerebral palsy is to try and stay active. It's good for the mind and body," says the young battler.
The Aims title is not a first for Guy, who nearly died several times before he was 3. He won the Hawke's Bay Junior Tiger under-12 title earlier this year and played in the national finals at Palmerston North, where he found too many bunkers and finished mid-table.
He hopes to become a golf professional or coach and his golf hero is Tiger Woods.
"I love watching him in action," says Guy, who accepts he has to live with cerebral palsy all his life.
"He constantly adapts as he grows," says proud mother Vickie. "Watching him in action and succeeding is very emotional. He has had to go through so many difficulties in his young life. It's great to see him blossom into a fine sportsman and person."
Guy, who has participated in the New Zealand Independence Games for athletes with disabilities (he won the triathlon this year), attended the Paralympic athletics identification camp at the weekend and received an invitation to attend a swimming one next year.
As a member of the Napier Athletics Club, Guy hopes to represent New Zealand in the 2020 Paralympics, either in athletics, triathlon or swimming.
Keith believes Guy's attitude to life is a powerful beacon to those with disabilities. "It could inspire even those with fewer obstacles or resistance to living life fully."