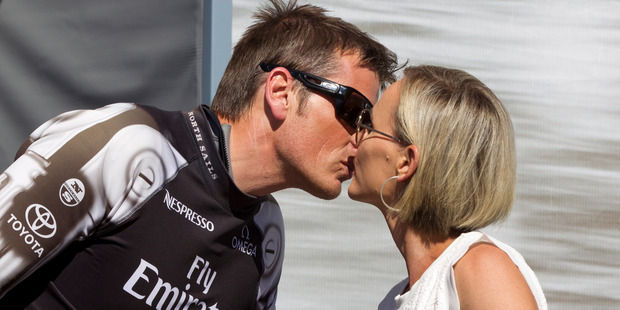 Are we on the verge of becoming children of a lesser nation or god this week?
New Zealand, according to doomsayers, are on the brink of intellectual bankruptcy from today, weather permitting.
"We", as we are led to believe, will be reduced to a mental heap, desperately hanging out for a twerking Miley Ray Cyrus-type of wrecking-ball video clip to boost our flagging ratings as a country that ... mmm ... punches above its weight.
Shrinks here will be turning away multitudes battling pangs of ineptitude because Emirates Team New Zealand sailors just couldn't heck the pace.
I mean how much help does wonder boy Dean Barker and his crew need for the love of weather gods? Are Team NZ's altar offerings inferior?
Oracle Team USA have endured a 2-0 handicap because they cheated, prompting the America's Cup international jury early this month to dock points and turf overboard three team members for adding illegal weight to their smaller boats.
The Larry Ellison-bankrolled Oracle took the penalty on the chin to return in dramatic fashion to defy unimaginable odds, down 8-1 at one stage.
The prohibited quantities of lead and resin embedded in the hulls of Oracle's 45-foot catamarans would have been enough to sink the best-laid plans of many syndicates.
Not so Oracle and American tycoon Ellison, who employs an open cheque-book policy.
Let's face it. Team NZ will go down in the cup's 162-year-old history as "monumental chokers".
No, make that in sporting history unless, of course, Barker pulls out a sought-after striped bass or chinook salmon from the murky depths of San Francisco Bay in the sudden-death race.
No pressure Barker even if it's an Ocker, Jimmy Spithill, who is the architect of our demise in a boat race where nationalities are irrelevant to the extent that Oracle have one Yank among their crew.
A winning start, that's what Team NZ fans yearned for with an 8-6 lead yesterday morning but Oracle emphatically drew 8-8 (or should that be a lead of 10-8?).
Team NZ got the penalties as well as that elusive leading start but, oops, blew it big time at the second marker in the second race.
I hear you, Chris Dickson: "They [Team NZ] tacked in no-man's land."
If you ask me the cup is about blokes locked forever in disputed territory - jibing, tacking and engaging in all those other jargonistic rituals on water I'm not even going to pretend to understand.
Going to court just isn't sailing.
You see, in May 2011 Team NZ director Grant Dalton arrived here, admittedly, on his ill-timed national crusade to seek the blessings of the red-sox populace when the country was reeling from the Christchurch quake, the Pike River mining disaster and the Rugby World Cup project in arrears to the tune of half-a-billion dollars.
But the timing of the retired, adroit seaman was actually impeccable as he impressed on me how Team NZ were simply a denomination of the All Blacks religion, New Zealand's most potent global brand.
Ironically, it seems, Dalton now desperately needs a Stephen Donald-type of saviour to push Team NZ to the Promised Land to justify spending $36 million of taxpayers' money.
It scarcely matters if the hero's fishing for whitebait, sipping beer and running on to the paddock with a bulging waistline that unashamedly smacked of prolonged dormancy and winning Lotto.
Find an old salty dog at the Viaduct Basin, maybe Dickson, and book a flight immediately to the US so the lad can will that cool cat over that imaginary line on the Frisco bay.
Dalton certainly can't complain about not finding traction from the masses at home, especially from Generation Y who he saw among "undecided voters" in 2011.
They have turned up before the giant plasma screens of hope, superstitiously clutching their objects of luck.
Frustratingly, they have threaded their worry beads amid chants of despair.
Some have even dared to let their children go to school late over the past few weeks.
What impact will the weeks of despondency have on their fragile minds?
Frankly, Kiwis have outdone a nation that has no qualms about placing its arm across its chest to sing a rendition of Star Spangled Banner at a hotdog stand when it comes to patriot games.
In fact, reports claim American football and baseball have reduced cup coverage to daily briefs in the US media despite organisers' efforts to offer locals free lunches and flags to rent a crowd although that may change now Oracle are on the cusp of creating history.
The TAB is now taking bets from flaky Kiwis who believe Oracle will defend the cup.
I wonder if those who labelled the Coutts and Butterworths turncoats still harbour similar resentment?
To differentiate between the heart and mind is the very essence of human existence.
It's okay to lose, especially when it's blatantly obvious money is the common denominator in technological warfare and one party is in a better position to call the bluff of the other once the winds pick up.
It's also palatable to have caffeine-fuelled (Nespresso) dreams, particularly if it's someone else's Omega-rich investment and one is comfortable about slipping on an unhappy "Camper" shoe.
What isn't okay is expecting people to belong to a cult of unaccountability.
Crusades are invariably built on the platform of deliverance.
If Team NZ fail to return home with the Auld Mug then scrutiny of Barker and his men's sailing prowess is in order. Dalton also owes, with equal zest and fervour as his pre-race pilgrimage, an explanation to his congregation on the altar of accountability and reason.
No, we couldn't possibly be the children of a lesser god or nation, win or lose.
Considering predominantly hard-core fans watched the Louis Vuitton Cup series before others caught the wave of America's Cup euphoria, it's worthy to note even non-cup savvy types admirably stood up to be counted for a collective cause - just as Hawke's Bay did when the Magpies defended the Ranfurly Shield.
No doubt, it shows loyalty comes at a price. It isn't blind. It's earned through transparency. It's not a given.
A lesser nation would have demanded deliverance before devotion or free lunches at the Viaduct to wave a flag.
During such times, a nation learns more about its constitution in defeat than in victory - the ABs included.