Hardy mare expected to peak for final feature.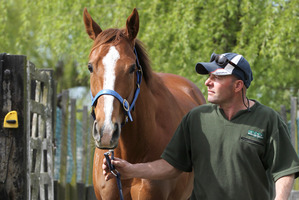 Listening to Hastings trainer Guy Lowry describe Pimms Time you somehow get the impression she is a no-frills type of horse.
"She's nice to have, good, tough and athletic," Lowry says nonchalantly of the 5-year-old chestnut mare who contests the feature race at the second meeting of the Rush Munro's Hawke's Bay Spring Racing Carnival tomorrow in Hastings.
Okay, to the uninitiated it may come across as perhaps not the ideal way to describe a lady of the thoroughbred tracks but then no one said horse racing etiquette champions attributes of a modelling catwalk or even dressage, for that matter.
If the Group 1 Makfi Challenge Stakes over 1400m on August 31 is anything to go by, Pimms Time's seventh placing from a wide gate on a heavy track is a testimony to that gritty resolve Lowry's alluding to.
"She was never on the track," says the co-trainer who prepares the mare with Grant Cullen at Hastings, before the 4.11pm start to the $200,000 group 1 Windsor Park Plate tomorrow over 1600m.
Mmm ... she was what?
The No16 gate didn't do her or jockey Mark Sweeney any favours in the Makfi stakes on a day that was uncharacteristically the heaviest ever recorded for a spring carnival in the Bay.
Ironically, August 31 is technically still a winter's day but it was the John Bary-trained and Don Gordon-owned Survived who prevailed in the first meeting to keep the dream alive of claiming an elusive Bay triple crown.
Jockey Opie Bosson is also eyeing his 43rd group 1 victory tomorrow.
For Lowry and Cullen, though, tomorrow's Windsor Park Plate comes with the promise of a better draw (No7) while Survived will start from the widest No12 gate.
All the trainers' best-laid plans can go awry with something as capricious as a number drawn pre-race from a hat.
"It's very disruptive but you have no control over it," Lowry laments.
You see, in many respects Lowry and Cullen will be delighted if Pimms Time secures a placing tomorrow over a mile (1600m).
"If we're in the first four then we'll be rapt."
The word is it'll be a "dead track" despite forecast for a "few drops of rain" on a balmy but overcast day.
"That should suit us but we don't want it to be too fast," Lowry says.
The trainers more or less see tomorrow as a dress rehearsal for Pimms Time who won the group 2 $100,000 Travis Stakes at Te Rapa in May.
They see the 2000m group 1 Turks Spring Classic on October 5 as her ideal distance although she has shed considerable weight from 470kg, getting closer to the desired 450kg when the Pins mare won the weight-for-age Travis Stakes.
Hawke's Bay Racing board member Charlie Whyte owns Local mare
expected
to improve
Pimms Time in partnership with his wife, Anna, parents Malcolm and Elizabeth, cousin Hamish Whyte and his wife, Sarah, as well as friends Pip and Dean McCarroll.
Bruce Perry Bloodstock, of Wairarapa, bought the mare for $70,000 from the 2010 Karaka yearling sales.
She has earned more than $100,000 in prizemoney for her owners.
Her dam Brampton Legs is a full-sister to the 2005 Caulfield Cup winner Railings and from the family of former champion Australian racemare Emancipation (19 wins).
Lowry says Survived is a good galloper and, with Final Touch, the second TAB favourite, they will be the hardest to beat in tomorrow's showcase event.
What of Mufhasa, the veteran who has 10 group 1 crowns to his name, including at the spring carnival here?
"Mufhasa's a great old horse but I probably would have liked him to have had a race before Saturday.
"He's going to find it a tough ask over a mile," Lowry says of Mufhasa who was scratched from the Makfi Challenge.
Lowry will have at least eight horses in tomorrow's meeting.
He reckons Thedepot, a 4-year-old gelding, will continue his consistent form to produce a good run in the Stella Artois Premier Rating 65 1400m race at 3.31pm.
The wide draw at No20 isn't too kind for Adventador, who has been "putting some good form", in the Rating 85 1400m Let's Go to Turks Finale, the last race of the day at 4.51pm.