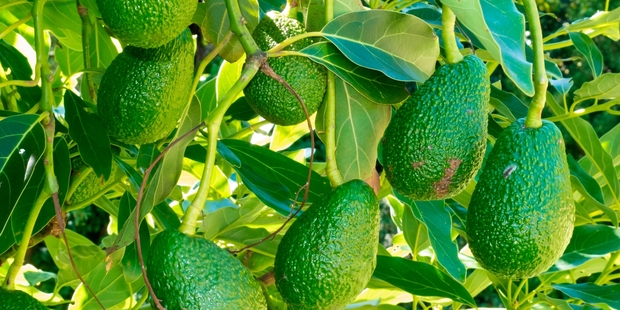 The avocado industry will benefit from a $4 million research bid that aims to double New Zealand's export harvest over the next five years.
Plant & Food Research spearheaded the successful bid to the Ministry of Business, Innovation and Employment's (MBIE) 2013 Science Investment Round.
Science and Innovation Minister Steven Joyce says the "avocados for export" study will focus on increasing New Zealand's average avocado yield, overcoming irregular fruit bearing and introduce new storage and shipping systems to export more volumes of fruit.
New Zealand Avocado CEO Jen Scoular, based in Tauranga, welcomes the news.
"This is very exciting news for the avocado industry and will contribute significantly to delivery of our five-year plan, which aims to develop value returning markets through delivering a consistent supply of high quality fruit."
The project will investigate causes of the industry's biggest challenge; irregular bearing, and the role dynamic controlled atmosphere (DCA) storage can play in extending the supply window.
"New Zealand Avocado has developed a five-year plan and as part of this we identified the need to seek partners and work collaboratively to deliver the outcomes. The MBIE bid process has been a team effort between New Zealand Avocado and Plant and Food Research. I thank all parties for the efforts that have resulted in this excellent outcome," Scoular says.
Plant & Food Research general manager of science - sustainable production Dr Derek Wilson says it shares the avocado industry's aim to work collaboratively.
"We are very pleased to have partnered with the New Zealand avocado industry to get a new science programme up and running to address irregular bearing and storage issues. We have entered a new environment in research and development where partnerships between Plant & Food Research, Government and industry see us work hand in hand with industry, with real focus on delivery of outcomes to meet the needs of that industry," Wilson says.
MBIE's Science, Skills and Innovation Group's deputy CEO Paul Stocks is impressed by the high calibre of the successful proposals and the diverse range of topics they covered.
"The research programmes outlined in the proposals are really exciting and they cover such a wide range of topics - from protecting our native forests from devastating plant diseases to assessing how downsizing in housing impacts on the independence of older adults."
Stocks says all of the proposals went through a robust assessment process, which included review by independent experts. The successful proposals were selected by MBIE's Science Board based on their scientific merit and potential benefit to New Zealanders.
"The avocados for export bid is a great research and development programme but its success lies also in the very strong value proposition outlined for the New Zealand avocado industry," Wilson says.
"In addition to MBIE's funding of $800 per annum, or $4 million over five years, New Zealand Avocado will contribute $100,000 of grower funds per annum.
"This means that during the five years, $4.5 million will be spent on new research for the avocado industry," Scoular says.
New Zealand Avocado was also supporting another successful bid from Plant & Food Research, "From bee minus to bee plus and beyond", a cross-sector project seeking optimisation of pollination.