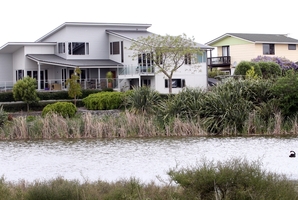 The latest monthly property value index shows residential property values for September increased by 4.3 per cent in Hastings and 2.8 per cent in Napier during the past year.
Nationwide, residential values have risen 8.4 per cent in the past year.
QV's Residential Price Index for last month shows property values on average are still 2.4 per cent below the peak of April 2008 in Hastings and 4.6 per cent below in Napier.
QV Registered Valuer Bevan Pickett said there was a continuation of steady demand and marginal improvement in house values in both Napier and Hastings from last month.
"Hastings property values are improving slightly more than Napier values, but with Napier values higher overall.
"Activity is still relatively low and there is a general lack of supply of good properties on the market.
"There is a feeling of uncertainty around how the LVR [loan to value ratio] changes will affect the market which has only recently begun to show some signs of positivity.
"The coming months will test the depth of the market," Mr Pickett said.
He said property values were similar to what they were three years ago in the 2010 revaluation, with rating values updated every three years.
The new rating values for the Hastings District Council will be posted to all property owners from Monday October 14.
The report also showed the Auckland market had increased 13.6 per cent year on the year, and values were 21.3 per cent above the previous peak.
QV.co.nz research director Jonno Ingerson said nationwide values continue to rise, driven primarily by Auckland and Canterbury where high demand and short supply were pushing prices up.
"Most of the rest of the main cities and provincial towns are also increasing but at a much more modest rate."
"The LVR caps just applied by the Reserve Bank are intended to help slow down the rapid increase in values by limiting loans to people with a low deposit. This will take some time to fully impact the market as the main banks had a large number of pre-approved loan applications in the pipeline. This is likely to cause a short-term flurry in activity as people rush to secure a property before their pre approval expires."
He said while the LVR caps may have an effect on first home buyers with limited deposits, it was likely to have little effect on other buyers. "What remains to be seen is whether the overall activity and price levels in the market are affected, particularly in areas with more affordable properties."
TOMORROW:
Housing affordability.