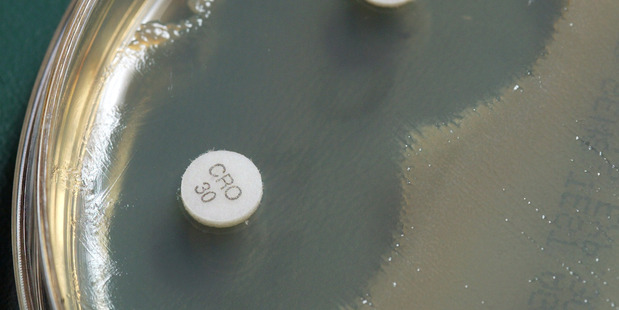 As winter sets in comes news some of the most potent treatments in the modern medical armoury, antibiotics, are now as likely to be completely ineffective as curatives because common disease-causing bacteria have mutated beyond their reach.
True, antibiotics are, as the name suggests, only effective against bacterial infections and not viral illness such as colds and flu, but pneumonia is bacteria-borne - and the "last resort" drug which treats it, carbapenem, is now less than 50 per cent effective in a host of First World countries.
At the same time, resistance to antibiotics for E.coli urinary tract infections has increased from "virtually zero" in the 1980s to being ineffective in more than half of cases today.
So says a just-released World Health Organisation report, which looked at the effectiveness of seven key antibiotics and found these two in particular often impotent.
Try not to catch the STD gonorrhoea, either - although a million people around the world do, every day - because the last resort medicine for its treatment now also generally fails.
Leading medical professionals are calling this bacterial fight-back a crisis akin to terrorism or global warming.
This caught my attention because along with the growing controversy surrounding many vaccination regimes, it is an example of how the "drug culture" of modern life is ultimately leaving us more vulnerable than before.
In less than a century since penicillin was discovered (1928), we've been lulled into forgetting some basics of good health care: that a strong robust immune system will usually fight off most common diseases, that washing hands and being careful preparing food can ward off most bacteria.
We have shunned our reliance on our body's own defences to the point we coddle children from dirt and grime lest they catch something.
Instead at the first sign of illness - or as often, before - we reach for the chemical cleaners and the "preventative" shots and the handy candy-coloured pills and expect those, alone, to save us.
And even when there's just cause to resort to antibiotics, too often they're used too glibly, incorrectly (such as to treat a cold), or without finishing the prescription - which gives surviving bacteria the chance to mutate and multiply.
Moreover we spray the land, and inject the food, and taint the water, and perfume the air with a whole pharmacopeia of industrially-derived artificial substances, so much so that we are constantly living in a haze of chemical addiction, whether we like it or not.
Is it any wonder the natural world is fighting back?
Bacteria - along with a range of disease-carrying animals such as flies, mosquitoes, rats - can breed and mutate fast enough that resistant strains emerge almost before the patent is filed on the latest medicine.
And the fact there are now only four companies worldwide - as opposed to some 18 20 years ago - developing new antibiotics (often merely modifications on existing ones) would indicate the bacteria are winning.
I raise this as counter-point to the latest Dunne deal - the ban on artificial cannibinoids you have when you don't actually have a ban - to illustrate and remind there are more dangerous substances going into our bodies daily that we should all be just as concerned about.
For instance, most stock animals are being fed or injected with various "beneficial" bacterial strains that are being passed on to humans - after they have mutated to more lethal forms.
Point being, if you're going to talk about "legal highs", let's talk the whole gamut. Ignoring a raft of potential killers just because they're licensed food or drink or cleaning products displays more blind hypocrisy than even the Dunne family can manage.
That's the right of it.
Bruce Bisset is a freelance writer and poet.