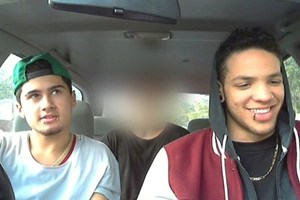 I'm actually really glad the so-called Roast Busters decided to boast about their behaviour online.
If they hadn't they would be still getting away with it.
It just beggars belief that they thought they could brag about having sex with drunk underage girls and not face any consequences.
As for the police response saying they they could not bring any charges because no victim was willing to come forward - what do you expect?
There is no way in hell a young teenage girl is going to put her hand up and say 'oh yeah that was me getting drunk and losing control of my body'.
Chances are mum and dad had no idea they were even at parties, let alone getting so drunk they couldn't control what was happening to them.
While I feel really sorry for the girls who have been named, cyber bullying laws are not going to solve this problem.
This is more about teens and drinking.
Most teenagers at some point are going to have a crack at getting drunk. But these girls are reportedly only 13 and 14. They should be home with their parents. I'm not making any excuses for the despicable behaviour of these boys but maybe it's time for mums and dads to start with the lectures again.
Use this story about these disgusting boys to your advantage, parents.
Let your teenagers see what people are capable of and what the consequences are of drinking so much alcohol you are taken advantage of.