For the Karena "girls" attending the historic signing of Ngati Kahungunu's Agreement in Principle of their Treaty of Waitangi settlement in Dannevirke on Saturday, it was a special homecoming.
"We were brought up by our grandmother here at Kaitoke, but we both moved to Ratana 60 years ago with our new husbands," Here Ratana (nee Karena) told the Dannevirke News.
"The signing of this settlement means this is a special day. Our tipuna have fought for this for a very long time and now it's coming to fruition. Today has been an emotional journey and so overwhelming."
Here and Barnie Tamou (nee Karena) were joined by Arapera Te Amo from Dannevirke at the historic occasion for Ngati Kahungunu ki Wairarapa Tamaki Nui-a-Rua and all three shared cherished memories of their time at Kaitoke.
"I'm very proud of this special day," 89-year-old Arapera said. "I'm one of the oldest and there aren't many of us left now."
Arapera was brought up by her grandmother's brother and his wife, but when the Karena girls lost their grandmother she stepped in to care for them.
Arapera's daughter Maria Edwards agreed Saturday was a fantastic day, but there were some sad memories too.
"So many have passed away, but it's going to be wonderful seeing us [Ngati Kahungunu ki Wairarapa Tamaki Nui-a-Rua] moving on. This is for the future of our tamariki and will benefit both urban and rural people."
For Hayden Hape, a member of the negotiation team, the settlement is an opportunity to play a bigger role within the region.
"We'll invest to create opportunities for not just for Kahungunu, but for the wider community," he said.

It was an emotional day for Hayden's mother Chris.
"This is about supporting my late husband Patrick, the family and Hayden and all they've been through striving for this," she said.
"I'm so proud of Hayden, he's come a long way.
"I know Patrick would be so proud if he was still here."
Apera-Hama Matenga is associated with the Kohunui Marae in the Wairarapa but now lives in Marton. Saturday's signing of the Agreement in Principle was a step in an ongoing process, he said.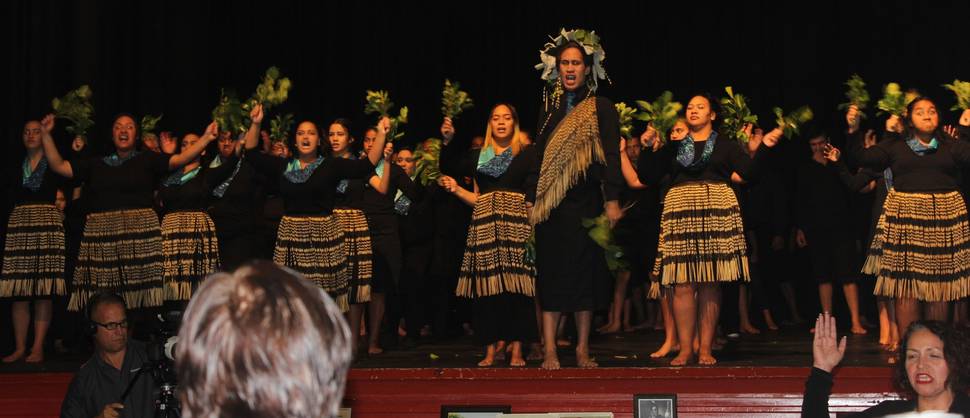 "Today, Treaty settlement becomes a reality. It's history in the making and it's an honour to be here today," he said.
Putiputi Tipene (nee Rautu) was born south of Masterton, but was brought up in this district and moved to Pahiatua when she married.
"Our tipuna have directed the path to where we are today," she said.