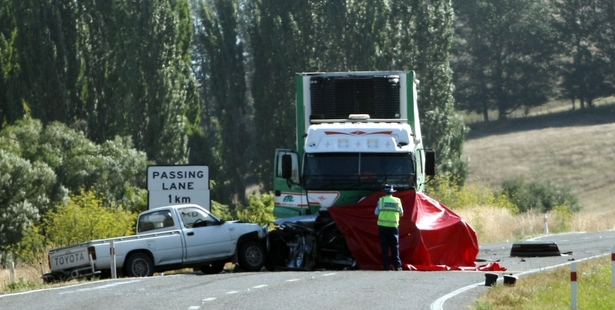 A woman's body had to be cut from the wreckage after a fatal three-vehicle crash south of Hastings yesterday.
Police said a Nissan Cefiro travelling south on State Highway 2 in Pakipaki appeared to have lost control and crossed the centre line straight into the path of an oncoming truck that was travelling north.
A white ute following the Nissan was also hit by the truck.
The crash occurred at 3.30pm, but fire crews worked for hours to free the deceased woman trapped in a car.
The woman was believed to be from Central Hawke's Bay.
There were no other injuries to any of the other vehicle occupants.
The fatality brought the 2016 regional road toll to six.
Cordons were in place shutting the stretch of road off from motorists for the majority of the afternoon, with diversions in place at Te Mahanga Rd and Te Aute Trust Rd.
Emmerson Transport managing director Ian Emmerson confirmed the truck involved was one of theirs.
He said the driver was as good as could be given the situation.
"He's uninjured, but pyschologically he's affected.
"The driver will be supported. Whatever support he needs, we'll give him."
Mr Emmerson said they felt for the families involved.
"You don't wish that upon anyone."
Cars, trucks and school buses were driving on the road yesterday before cordons were set up.
Uniformed students piled out of the buses and waited on the side of the road in 27C heat.
Motorists started doing u-turns as police officers advised of a delay that could be as long as five hours.
A number of trucks had to reverse some 200m back up the road because they were too big to complete a u-turn.
Yesterday's fatality was the sixth on Hawke's Bay roads this year, meaning a person has died on average, every 7.5 days.
The first fatality of 2016 was 20-year-old Bradley Charles Dobby from Waipukurau on January 3, who was killed after a crash involving a ute and a car near Waipawa.
Sapphire Te Aroha Skipper-Hira, 2, died after being flung from a vehicle when it rolled on Hawke's Bay Expressway, halfway between Omahu Rd and Flaxmere Ave on January 13.
Napier man Derek Ricketts, 87, crashed into a concrete toilet facility on Whirinaki Rd near Bay View on January 18.
On February 2 a 75-year-old man died after his car left East Beach Rd near Raupunga.
Later that week, on February 7, Rhys Middleton, 23, was catapulted from his motorcycle and died after colliding with a car being driven in the same direction on State Highway 5, just north of Napier.
Last year, 15 people died in road crashes in Hawke's Bay/Gisborne, four fewer than 2014.