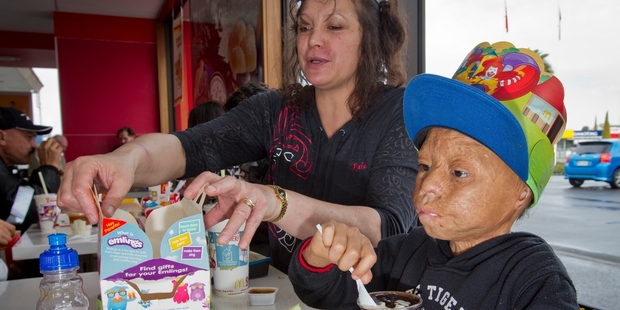 A Hawke's Bay boy who suffered severe burns to three-quarters of his body in a car fire three years ago, celebrated a fifth birthday to remember yesterday.
On August 13, 2011, the then-23-month-old Dukie King climbed into his parents' car at their home in the northern Hawke's Bay town of Mohaka.
The car erupted into flames within minutes after Dukie appeared to have begun playing with matches, his mother, Andrea King, said.
Dukie's father, Nathan King, had scrambled to save his son and pulled him from the burning wreck before the toddler was airlifted to Hawke's Bay Hospital in a critical condition and urgently transferred to Middlemore Hospital's specialist burns unit in Auckland.
After several surgeries and months in hospital, Dukie was "buzzing" about his big birthday in Napier yesterday, Mrs King said. "He is a typical boy from the country. He's into his motorbikes and feeds the pigs. Coming into town is a whole new thing for him and the family."
Several Napier businesses, including the National Aquarium, McDonald's and the Shoreline Motel provided the 5-year-old with free accommodation, food and entertainment to celebrate the brave boy's birthday.
"I was always positive even when we spent all those months initially at the hospital, going through all those stages of treatment," Mrs King said.
Dukie, an avid digger and truck fan, began his transition into school in June but is scheduled for dozens more surgeries, including one in Hastings on October 9.
Despite the harrowing experience, Mrs King said her son was not afraid of fire, nor did he show signs of suffering from flashbacks.
"You can light a candle and he's not scared, and we have watched action movies where the car has blown up.
"I was scared at first because I thought he would freak out. I had learnt that burns victims can go into shock quite quickly but he's not scared of fire. He's just like every other little boy."
She said the trip to Napier yesterday was an achievement for the whole family and a time to reflect and celebrate with Dukie's seven siblings, who had all watched the tragedy unfold.
"This process today has made me look back and talk about what happened, which always makes me sad, but Dukie and everyone have a really positive outlook on life and everything is moving forward."