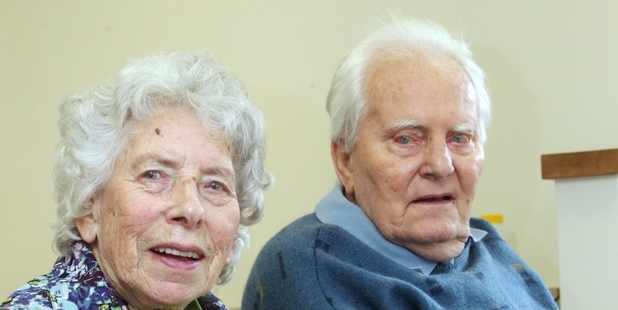 Peter and Elsie Lovell have been married for 74 years and are determined to make up for lost time together.
The English couple met at a dance and married in 1940. However, Peter, a soldier, was soon sent to Egypt, the first of several postings that kept them apart.
"They spent a lot of time apart, until he retired from the army in 1960," said daughter Sylvia Brown.
The former warrant officer saw an advertisement for a motor mechanics job in Wairoa. "He met a lot of New Zealanders in the army and got to know them, and learn about, New Zealand," she said. With 20-year-old Sylvia they emigrated in 1965.
Mrs Lovell also worked in Wairoa.
"She had an arts and craft shop called Muriwai Decorative Arts in Paul St."
The couple retired about 20 years ago and moved to Napier.
Two years ago, they moved into the Napier District Masonic Retirement Trust home in Taradale, Mrs Brown said.
Despite having separate rooms, love and affection is still paramount for the 94-year-olds.