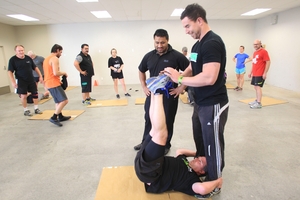 Healthier employees and healthier workplaces is the aim of a new initiative called Workfit.
It is a partnership between Sport Hawke's Bay and Kahungunu Hikoi Whenua. Workfit supports workplaces to be physically active and have good nutrition practices.
"The workplace is where you get most people and hopefully they go home and share it with their family," said Sport Hawke's Bay's Workfit co-ordinator Viliamu Malaitai.
He said he is currently working with about 25 organisations, including Furnware.
The company's operations manager Steve Halpin said Furnware got involved with Workfit about three months ago. For six weeks a bootcamp class was run by Levi Armstrong from Patu Fitness for the last hour of the shift, from 1.30pm to 2.30pm.
"Essentially they [workers] were getting paid to come to the class."
At the end of the six weeks, the class was moved to the end of the shift, and now begins at 2.30pm. He said at least 20 people, about a third of the staff, still come to the twice-weekly class.
Mr Halpin described the bootcamp as "a real leveller."
He said the best thing to have come out of it was the camaraderie and "feel good factor" among the team.
Mr Malaitai said the first thing a workplace does is put together a Workfit committee.
A survey is conducted within the workplace to establish what the employees want to get out of the programme.
From this point he takes on a support role.
"It's really awesome to see the workplaces take ownership."
Mr Malaitai said a lot of employers were able to see the long-term effects of being involved with Workfit for their organisation and their employees.
For the employer, these include fewer sick days, a lower staff turnover, less workplace injuries and an overall happier workplace. Mr Malaitai said the employees find themselves with more energy, and are stronger and fitter.
Mr Malaitai did not stop with physical activity, having recognised that often those who are not as keen to join in, are those who need targeting the most.
He put together a health workshop which can be delivered to workplaces involved with the Workfit initiative.
The workshop includes a nutrition seminar, and input from Cancer Society, Diabetes Hawke's Bay, Asthma Hawke's Bay and Heart Foundation.
The initiative also rewards organisations for the success and effort they have put into Workfit, with bronze, silver and gold accreditation available.