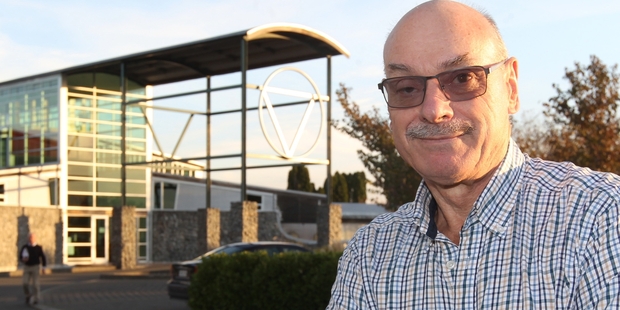 Progressive Meats owner Craig Hickson is the latest Hawke's Bay businessman to make an appearance on the annual National Business Review Rich List.
Mr Hickson's estimated wealth of $50 million is just enough to secure him a place on the list where he joins six other Hawke's Bay-based entrepreneurs and families with significant wealth.
Software company founder Rod Drury is the wealthiest year-round Hawke's Bay resident on the list. He jumped from a ranking of 22 on last year's list to 12 this year but says the $780 million value attributed to him this year is not accurate.
Mr Drury owns 17 per cent of fast-growth online accounting software company Xero and his paper wealth fluctuates with the company's share price, which has been on something of a rollercoaster ride this year.
Based on yesterday's share price his holding in the company was worth $532 million. It peaked at $977 million when Xero shares hit a record high in March.
Mr Drury joked yesterday that his position on the Rich List would "make it hard to get a discount from a local tradesman".
He said he was enjoying running and growing a global business while taking advantage of the lifestyle benefits of living in Hawke's Bay. He had no plans to sell up.
In between business travel commitments, he has been heavily involved in local community initiatives including working on an economic development drive which saw Hastings secure a new Kiwibank call centre which could eventually bring up to 200 jobs to the city.
Mr Drury is also on a thinktank working on civic developments in Napier and has also helped improve facilities at Te Mata Park.
Mr Hickson, the 2012 Federated Farmers Agribusiness Person of the Year, started Progressive Meats with his wife Penny and a staff of six in 1981.
NBR said the couple now own or part-own five meat plants in the North Island and Wales, employing more than 300 people with an annual revenue of about $500 million.
The Hicksons also run a 1200ha sheep, deer and beef farm in Hawke's Bay.
Other Hawke's Bay names on the list include the well-known Cushing and Lowe families, who are joint 71st, and wine entrepreneur Sir Graeme Avery.
The Lowe fortune, put at $155m by NBR, has been derived from New Zealand's largest privately owned animal by-product processor and exporter, the Lowe Corporation.
The company was founded by the late Graeme Lowe over 40 years ago, has an annual turnover of $300 million and employs about 400 staff.
The Lowe Corporation is now run by Graeme's son, Andy, who continues his father's philanthropy by generously supporting charities and organisations like the Hawke's Bay Helicopter Rescue Trust.
The company, which also has interests in other agri-business companies, property and farming assets, acquired Silver Fern Farms' Napier hide processing plant in March in a major shake up of the industry. Lowe will now market all Silver Fern Farms' hides, pelts and wool.
The Cushing family, headed by Sir Selwyn Cushing and his son David, is also worth $155m.
After a rough 2013, Rural Equities, the company the family has a majority stake in, had a better year this year and will announce its results next month. Rural Equities is New Zealand's only publicly traded land ownership company, with $192 million of assets.
Sir Selwyn has a long history in New Zealand business, having been chairman of Air New Zealand, Brierley Investments, Carter Holt Harvey, Electricity Corporation, Huttons Kiwi and Whitcoulls Group.
David Cushing, a former investment banker is now chairman of Rural Equities.
With an estimated fortune of $85m, Sir Graeme Avery, the owner of Hawke's Bay winery Sileni Estate, is also on the list.
Sir Graeme was made a Knight Companion of the New Zealand Order of Merit for services to business and sport in this year's Queen's Birthday Honours list.
He transformed medical publishing company Adis International into a $100 million world-leading business before leaving to start award-winning Sileni Estates, in the Bay and in Marlborough.
He also founded the Hawke's Bay Wine Country Tourism Association and Hawke's Bay Food Group, including the Hastings Farmers Market which helped kick off the national farmers market movement.
US billionaire Julian Robertson, the owner of The Farm at Cape Kidnappers who calls New Zealand his second home, is number two on NBR's separate "International" rich list for foreign nationals with New Zealand residency.
Mr Hickson is one of 13 newcomers to the Rich List, whose individuals and families collectively passed $50 billion in wealth for the first time.
Their combined wealth of $51.2 billion in 2014 is more than double that of the 2004 list, which came in at $22.3 billion, and well up on last year's $47.9 billion.
Packaging industry tycoon Graeme Hart continues to top the list with a $7 billion fortune, up from $6.4 billion last year.Hawke's Bay Today columnist Sir Bob Jones is number 16 on the list with an estimated fortune of $600m.