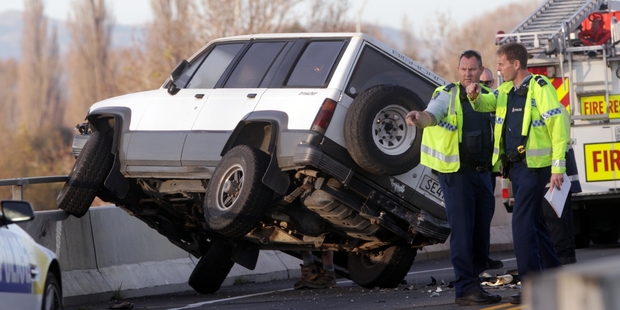 Police have issued a "be prepared" warning to motorists using the Hawke's Bay Expressway at peak times after a multi-vehicle crash yesterday.
Emergency services were called about 7.45am after reports a car had run into at least two vehicles stopped on the Meeanee Rd overbridge stretch - with one left precariously balanced against the side railings.
"Had it been struck and pushed harder it could have ended up being pretty ugly," Senior Constable Ian Cheyne said.
The driver of the van was left shaken but uninjured.
Mr Cheyne said the incident began when a driver in his early 20s travelling south toward Hastings failed to slow down quick enough approaching stationary traffic on the bridge.
"He had seen vehicles ahead slowing but hadn't realised they had stopped."
The man braked and swerved left when he saw traffic was not moving.
His car, an early model Ford Escort which Mr Cheyne said would likely be written off, clipped the back of one vehicle then struck a second one before coming to a stop.
None of the occupants of the vehicles were injured.
"He was simply not paying attention and he acknowledged that."
A flashing sign on the approach to the overbridge indicating slowing traffic ahead was operating at the time.
"On that stretch and at those times [peak hours] it is something people have to be prepared for," Mr Cheyne said.
"But it is also a lesson for any time on the roads - do not take for granted that everything will be clear ahead."
Mr Cheyne said while it was a regular occurrence, the bottle-neck and slowing/stopping traffic situation was not unique to the Bay's expressway.
"It happens in most places at peak times - traffic builds up and will slow."
The overbridge stretch was closed for about 20 minutes while the damaged vehicles were removed, with north and south-bound vehicles being detoured through the on and off-ramp stretches.
A short time after police had cleared the area they were called back to a second crash nearby at the intersection of Meeanee and Guppy Rds.
A car travelling through the intersection was struck by a turning vehicle.
The elderly woman driver was shaken and taken to hospital for a check-up.