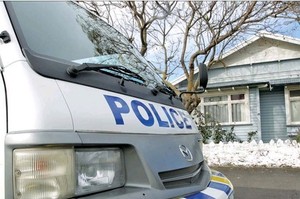 An alleged home invader, who had the tables turned on him by the man he attacked, remains in a critical condition in Hawke's Bay Hospital's intensive-care unit.
Police have completed two scene examinations following an attack on a sleeping father late Saturday night.
A 33-year-old forestry worker, who asked to not be identified, said his partner answered the front door at their Mcvay St home in Napier South shortly before midnight where a man "just barged through her, looked into my lounge and at the kids in the games room, came upstairs where I was asleep and started attacking me with the hammer". He woke to find a man "standing on the bed over me".
"I think he might have punched me a couple of times because all I saw was a fist coming down towards my face," he said.
The attacker had a hammer, which the men wrestled for while his partner and four of his children looked on. The intruder asked the father what he was doing in the intruder's house.
The family have lived there for 18 months.
The intruder let go of the hammer to grab the father's testicles. The father grabbed the hammer and struck the intruder several times.
His partner showed the man to the front door.
"I recall my little girl screaming at him, saying 'why would you come to my house?"'
Shortly afterwards, a 23-year-old Napier man drove himself to nearby City Medical, where he was transferred to Hawke's Bay Hospital with head injuries.
Detective Senior Sergeant Dave de Lange said the intruder was not known to the occupants of the house and police were working to confirm he was the same man admitted to hospital.
In an unrelated incident, a 37-year-old Napier man also drove himself to City Medical. He arrived at 5.30am on Sunday with stab wounds to his head and body after an attack on Bluff Hill.
He is in a serious condition in Hawke's Bay Hospital's high-dependency unit.
Police are investigating.