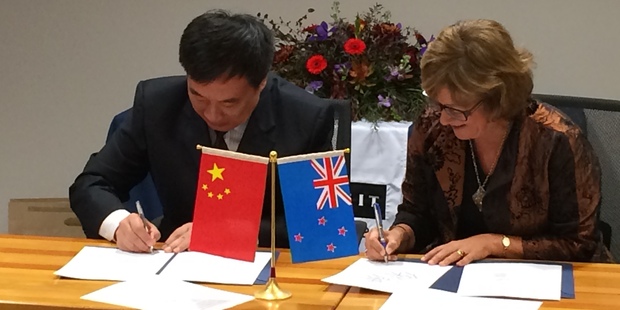 An agreement between EIT and a university in one of China's premium grape-growing regions is tipped to give Hawke's Bay a boost as a destination for international wine industry students.
EIT has signed a memorandum of understanding with Qilu University of Technology in China's Shandong Province which it hopes will see students from China spending up to two years in Hawke's Bay to complete bachelor degrees in viticulture and wine science at EIT.
While it is expected to be three or four years before the relationship between the two institutions results in overseas students arriving in Hawke's Bay to take part in its bachelor programmes, EIT says the deal is an example of the potential to grow international education opportunities in partnership with local councils.
The relationship with Qilu University has been cemented through two visits to the institution over recent months by Hastings Mayor Lawrence Yule.
"EIT is very strong in wine and viticulture education, and wine production and consumption is increasing in China so they are looking to increase their skills and tertiary qualifications in that area," said EIT's dean for commerce and technology, Fred Koenders.
"It makes sense for a university like Qilu, that is in the middle of Shandong province, to partner up with EIT which has strengths in this area."
Mr Koenders said EIT would now go through a "curriculum matching" exercise to establish the content of second and third year viticulture and wine science courses it would need to offer to Qilu students wanting to train in New Zealand after completing their first year of studies in China.
EIT would then sign a more detailed agreement with Qilu University before beginning to market the "joint pathway" programme to Chinese students.
" It's a potential long-term relationship with a long-term investment before we see a return, but it's very important to us."
Mr Koenders said he could not say how many fee-paying students the programme was likely to attract. "Any additional student coming into Hawke's Bay is valuable to us. Every student brings in a significant amount of money."
According to its website, Qilu University has more than 20,000 undergraduate students and more than 1100 teaching staff.
The memorandum of understanding was signed at EIT when a delegation from Qilu, including one of the university's vice presidents, visited Hawke's Bay in May. The trip was on the same day Mr Yule was in China making his second visit to Qilu.
Mr Yule described the memorandum of understanding as "a massive opportunity" for EIT.
In a report to the council he said: "The collaborative work of [council] and EIT staff following my first visit to the university last year has resulted in a formal relationship in record time."
It is one of a number of economic initiatives he and the council have been working on involving partnerships between Hawke's Bay and Chinese businesses.