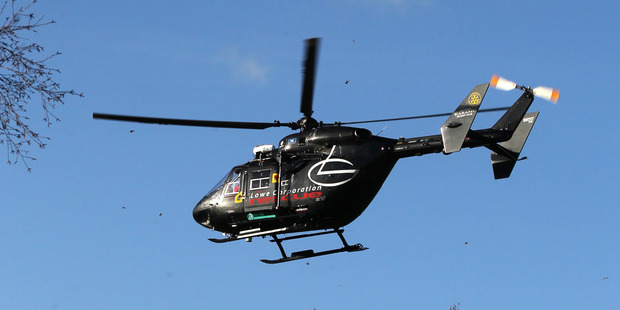 It was a busy 24 hours for the Lowe Corporation rescue helicopter yesterday as it attended four accidents around the region, including a man who injured his face with a chainsaw.
A 55-year-old man was in a serious condition in Hawke's Bay Hospital yesterday, a hospital spokesperson said, after suffering facial injuries from a chainsaw in Ongaonga, Central Hawke's Bay.
The man suffered the injury after the chainsaw he was using "kicked back" yesterday morning.
He was driven to Waipukurau Medical Centre by a friend, and then flown by the rescue helicopter to Hawke's Bay Hospital.
It was the third job in 24 hours for the crew, who also attended an 84-year-old man with head and facial injuries and a dislocated shoulder, after he fell at his home in Mahia about 3am yesterday.
Their other call was to a 49-year-old male who suffered facial and suspected head injuries after falling at a Tikokino farm at 3.30pm on Tuesday.
Both men were in a stable condition in Hawke's Bay Hospital.
The number of missions rose to four when the rescue helicopter responded to a 31-year-old male, who suffered a punctured lung after he accidentally shot himself with a nailgun while building on a Waipukurau rural property yesterday afternoon.
Waipukurau deputy chief fire officer Owen Spotswood said the man was working in a building party on a farm house on Woburn Rd when he tripped over and fired off the nailgun.
A hospital spokesperson said the man was still in a serious condition last night.
Lowe Corporation rescue helicopter pilot Charlie Beetham, who was the pilot during the four missions, said last night it had been a busy 24 hours for the helicopter crew.
After attending the first mission of his shift at 2pm on Tuesday, he had "a few hours' kip" before attending the missions at 3am, 11am and 3pm yesterday.