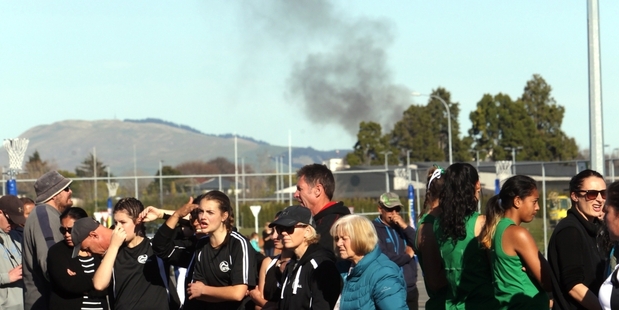 The Tongan community in Hastings was last night rallying around a family whose home was badly damaged by a midday fire believed to have started from a smoking oven, which was preparing meat for their church pastor's farewell later in the day.
About eight people lived in the house in Karaitiana St, Frimley, including a 2-month-old baby, but none were home at the time the fire was noticed by passersby a few minutes before midday.
Senior station officer Mike Peachey, of the Fire Service, Hastings, said the smoking oven had been in a safe position about three metres outside the rear of the house, but it appeared a mattress close by had fallen on to the smoker, ignited and created a fire which gutted one room at the rear and caused smoke and water damage through the rented four-bedroom home.
Mr Peachey said the house was saved by the quick reaction of passersby who called the fire service and went on to the property to move a van out of the reach of the flames.
The rear was in flames by the time two crews arrived minutes later from the Hastings station, less than 1km away.
Crews could see smoke rising into the sky as they headed towards the scene, and billowing from the front as the fire started to spread across the house.
It was quickly extinguished and Mr Peachey estimated damage at about 50 per cent, and smoke damage throughout the building.
Last night, family members and others from the Free Church of Tonga were clearing the house of belongings as builders worked to secure the building.
Iaveta Luka, whose daughter lived in the house, said, "The main thing is no one was hurt. We thank God for that. Everybody is alive."
"We are shocked," said Tevita Lata, whose son also lived in the house and like the other adults works for Mr Apple.
Members of the family have lived in the house since about 2006.
Meanwhile, a fire in a rural Southern Hawke's Bay house late on Saturday morning is thought to have started in a fireplace and chimney surround.
The Fire Service communications centre in Wellington understood damage was minor. The house was off Matamau Ormondville Rd, southwest of the Ormondville township.