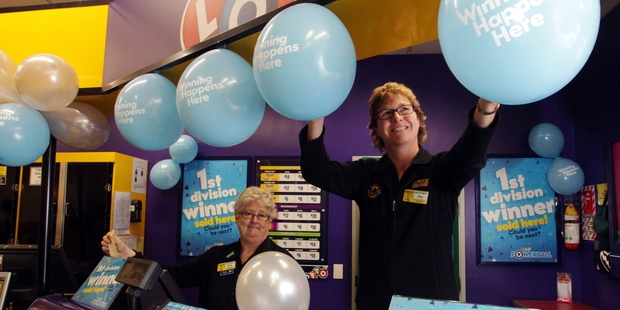 The lucky person who bought the winning $13million Lotto Powerball ticket from Pak'nSave Hastings at the weekend had by last night still not come forward to claim the winnings.
Staff of the Hastings supermarket know they'll probably never meet the lucky winner, but they do have an inkling of what it's like, with two staff members recently striking it lucky. Sources confirmed one was involved in a windfall of more than $35,000 and another about $27,000.
None of the luck had come the way of Pak'nSave Hastings owner-operator Brendon Smith, who said, as staff placed the balloons and other front-of-shop signs of shared glory that go with big Powerball and Lotto wins, he's yet to meet a big first-division winner. "It normally does generate a bit of a buzz around the store," he said, but there was nothing yesterday to suggest anyone had any idea who had won.
"I hope it has gone to a local, but we did have quite a few out-of-towners in the store over Queen's Birthday Weekend," he said.
Rather than waltz into the store, big winners were more inclined to report to Lotto headquarters, now in Auckland but having been in Wellington for most of the time in the 27 years since the nationwide gambling plunge began in 1987.
Facebook followers widely urged the winners to keep the secret to themselves, with little conjecture or hints as to who may have won.
"They live in Flaxmere," said one message, though there was no clarity as to whether that was fact, rumour or local gossip. Another read: "Shame on you for asking."
While the holder of the Hastings ticket had not come forward, there had been a claim from co-winners who bought a ticket at a superette at Kumeu, West Auckland.
A Lotto spokesman said Auckland grandparents had won half the other half of the pool, which comprised a Powerball first-division jackpot of $25,933,214 and two quarter-shares of the Lotto first division prize of $1million.
The two were unaware they held the winning ticket until the day after the Saturday-night draw, when they checked online and found they had a matching line with the six Lotto numbers and the Powerball supplement.
A woman told Lotto staff her husband "thought I was having him on", so they went to a Lotto shop for confirmation.
"That's when I went weak at the knees," she said. They planned to buy their own house, a holiday house for the children and grandchildren to enjoy spending time at together, and a boat to please the grandfather.