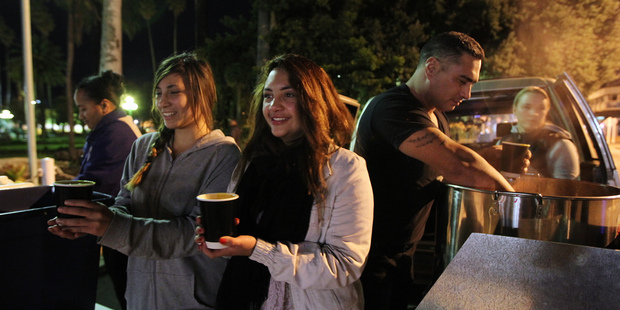 A Taradale family spent last winter serving soup to the Napier homeless with their mobile soup kitchen, showing the kindness those living on the street rely on.
The Swannell family used their utility truck to serve hearty winter-warming food to those living rough, operating mainly in Clive Square.
Kiri Swannell grew up working in the hospitality industry and with her husband, Kevin, opened their "soup truck" following a chance meeting one Sunday evening.
"We saw this homeless guy across a carpark and we wondered who he was, because we had never seen any homeless people in Taradale before," she said.
"That night we spent until about 12.30am just talking to him. We made him a cup of tea, cooked some noodles to eat and gave him a blanket."
The following day Mrs Swannell phoned the Napier City Council to ask whether her family could set up a mobile soup kitchen, using their truck, starting in the heart of the city.
The couple's teenage children Tiana Swannell and Stephanie Swannell were the first to jump in to help serve the soup their mum had made.
Mrs Swannell last year also began studying for her national certificate in mental health, with a focus on aid support workers, at EIT Hawke's Bay.
"That has opened my eyes and shown there are more people out there homeless and struggle with things like addiction, which is why they have no money and can't look after themselves," she said.