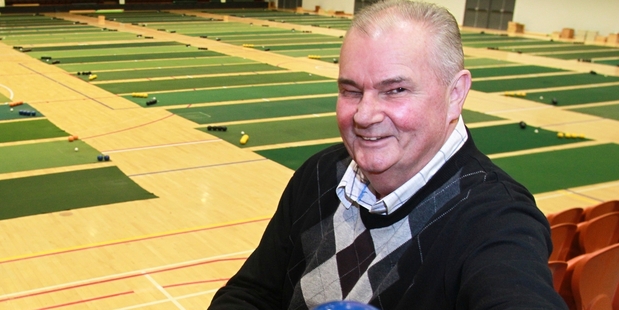 Will Hawke's Bay indoor bowler Rod Fleming's weight-loss regime be rewarded in the national championships which begin at Taradale's Pettigrew-Green Arena today?
That was a major question as Fleming joined several out of towners for a quick peep at the 90-mat venue last night. A couple of the visitors remarked on Fleming's leaner appearance.
During the past nine months Fleming, 67, has shed 20kg to weigh 93kg in the countdown to the eight-day nationals. The St Patrick's club player has been motivated by a major incentive.
"Yes it would be great to get my gold star on home turf," Fleming said.
Gold stars are awarded to players who win five national titles and Fleming has been sitting on four since skipping the winning fours team in Christchurch in 1982.
"Basically, I didn't want to be a passenger. I began eating the right food and gave up the rum and cokes.
"I decided to drink wine which is better for you and there is plenty of it here in Hawke's Bay," Fleming said as he reflected on his "fitness regime".
Unlike many of this week's competitors Fleming, who took up indoor bowls in 1973, will have the advantage of having played in the Arena when it hosted the national Catholic tournament five years ago.
"Providing the floor hasn't had any major heavy vehicles on it since then it should be pretty similar," Fleming said.
A real estate agent alongside his wife and fellow indoor bowler Sue with Property Brokers in Napier, Fleming was quick to reply when quizzed on which title he regarded as his best hope for the gold star.
"The fours will be my best and last hope if I don't get anything before then."
Fleming and his wife will combine with the Manawatu father-and-son pair of Danny and Jason Moore in fours section play on Friday.
"Danny and Jason are both very competitive but hard cases at the same time. We played together in the Hawke's Bay Easter Fours and didn't qualify ... but we know how everybody plays now," Fleming said.
"I've got no chance in the singles but I will still qualify and will use this part of the tournament to get a feel of the venue," Fleming said.
He won the singles title in a field of 3050 in 1977 in Tauranga and again in 1980 when 1685 starters chased the title in Nelson.
"The numbers might have got smaller over the years but the quality has definitely got better," Fleming, who also won a fours title in 1980, said.
All of his national titles were won when representing Auckland. The Flemings moved to Hawke's Bay in 1997 and the last Hawke's Bay players to win a title at these nationals were a four combination in 1975.
The Flemings will combine with clubmate Danny McIsaac in the triples and play as a team in the pairs.
"Danny has been playing superb bowls and like Sue is a good calming influence."
The late Sen Smith of Auckland, who won his gold star in 1989, is Fleming's choice as the best player he has seen in his lifetime. Fellow Aucklanders Ian Wheeler and Terry O'Connor are his picks for best teammates.
"Ian was a drawing machine and Terry another of those calming influences."
Fleming will be one of 42 Bay starters in the 520-strong singles field today. Post-section play in the singles will be played tomorrow.
The Flemings will be one of 21 Bay pairs when 310 pairs start section play on Monday. Pairs post-section play will be completed on Tuesday.
The Flemings and Danny McIsaac will be one of 15 Bay teams when 195 triples teams start section play on Wednesday. Triples post-section play will end on Thursday.
Eleven Hawke's Bay teams will be among 150 teams when fours section play starts on Friday. Next Saturday's fours post-section play will end the tournament.