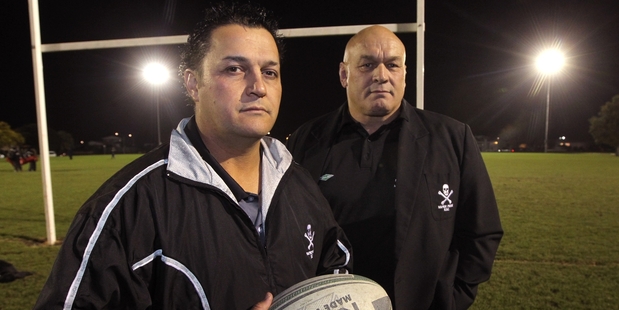 During Napier Pirate Rugby and Sports coach Andy Lord's playing days he was one of the more witty halfbacks in the province.
His one liners in the heat of battle were often as good as the Bay's top referee Marty Hantz. Lord can expect some handy one liners from the crowd today if his Tanalised Napier Pirate Rugby and Sports side fail to fire in their first round Tui Maddison Trophy encounter against Clive at Park Island.
Several of Lord's Maddison Trophy-winning Pirate teammates from the 2004 and '05 seasons as well as Pirate's Maddison Trophy-winning 2011 side will be among the spectators. The 10th anniversary of the '04 team's success will be celebrated as part of the club's club day festivities.
"All these blokes will certainly give us an incentive to deliver. We used the Nash Cup round as a trial process and gradually improved ... now the goal is to win the Maddison," Lord, 35, explained as members of the '04, '05 and '11 teams gathered at the club's Tamatea Park headquarters last night.
A knee injury one week out from the semifinals in '04 prevented Lord from playing in the 24-15 win against Napier Old Boys Marist in the final.
He attempted a comeback midway through the '05 season but struggled because he didn't do his rehab right the previous year.
"I'm on 121 games at the moment," Lord quipped referring to the fact he hasn't announced his retirement from playing.
Lord, who is in his first season as a premier head coach after two seasons coaching at colts level, said he is enjoying working with his experienced assistant coach and former Magpies prop Terrence Taylor who retired from the premier coaching ranks after the '04 final and is in comeback mode at this level.
"Both of us have plenty of experience to pass on from winning Maddison Trophy environments. They were highlights of my playing career but so was the year when we got relegated but won the relegation-promotion match ... you learn a lot from those experiences and it proved what could be achieved when the whole club pulls together," Lord said.
He also coaches the club's reserve grade side which, combined with his daily 13-hour stints as a logging truck driver, is a big commitment. However Lord said the continuity between the two squads will benefit the club in the long run.
Again displaying his wit, Lord, said the fact he is on first names basis with most of the Bay's referees from his playing days is another string to his coaching bow which began at fifth grade level with the Pirate club and continued through all the junior grades and up to D grade and under-15 levels with Napier Boys' High School teams.
A deputy to former Magpies halfback Chad Shepherd towards the end of his playing career, Lord said he marked some talented No9s during his prime. He singled out Maraenui's Boss Forster, MAC's Cory Tamati and Taradale pair of Russell Hewitt and Karl Bidlake as the best.
While he will again stick to his policy of giving some of his 2013 colts team products game time today Lord said he won't be taking Clive lightly.
"Clive only just lost to MAC last week. They've also got some of their senior heads like Ray Karauria back. At the same time it's important we show belief in our young players."
"I enjoy the grassroots aspect of club days. It's a pity it's only one day each year when everyone in the club gets behind each other," Lord added.
Some pundits are promoting the game as the "Two Andys Show" as Clive are coached by another first season premier coach and Maddison Trophy winner as a player Andy Green. Lord's troops won the Nash Cup round clash between the two sides 20-12 and if the wet weather remains, a similar score is expected today.
IMS Payroll Hastings Rugby and Sports unbeaten run at Elwood Park this season will face its biggest threat when they host unbeaten Nash Cup winners Carters Frame and Truss Taradale. Defending champions Tech Group of Companies Napier Technical will be seeking revenge for their upset 24-3 loss in the Nash Cup round when they visit MAC at Flaxmere Park.
Other first round encounters will see Progressive Meats Havelock North start as favourites against winless Tamatea at Anderson Park and likewise Hawke's Bay Insurances Limited Napier Old Boys Marist when they take on Northfuels Central at Waipukurau's Central Park.