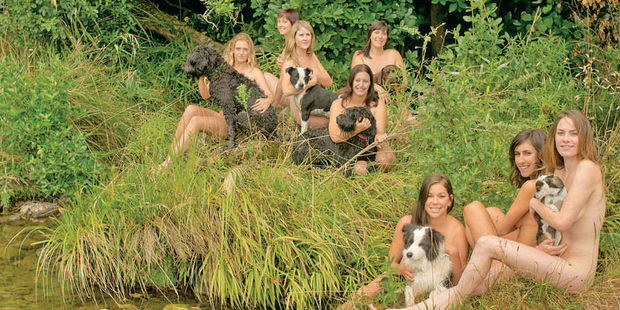 They say photographing children and animals is hard - what about animals and 70 naked vet students?
Two Hawke's Bay lasses stripped bare and braved the elements to pose nude for the annual Massey University calendar - a tradition that brought its fair share of awkward laughs.
On a "chilly" day in February, Kate Davidson of Napier set off with a group of seven girls and six dogs, to a river - where the bravest of the bunch had only a chihuahua to protect her modesty.
While it was a "shock" at first, the classmates were soon comfortable enough to pose "completely starkers" in front of the camera, while perched on wet, slippery rocks.
They required a few takes to get the money shot as their wet and energetic canine companions tended to "run off" or refuse to pose.
"It was really cold and we were trying to look good. We had the dogs as well - they were there to cover all the delicate bits so we weren't too exposed," Ms Davidson said.
"We were definitely nervous - it's strange you go into shock, but after a while, you're really comfortable."
From a class of 100, about 70 people volunteered to participate in the calendar, splitting off into groups and coming up with unique ideas to raise money for Riding for the Disabled and a halfway day bonding trip to Taupo.
Anna Mackenzie, also from Hawke's Bay, was in a team of four girls - who made the most out of their experience, shooting at several locations with sometimes-noncompliant props.
In April they began setting up shoots - one at a kitten shelter where they had emerged with a few surface scratches.
"It was a pretty stressful situation.
"The kittens were so young they haven't learnt to retract their claws yet, which wasn't the best when you're naked," Ms Mackenzie said.
"At the shelter we also did some with Flemish rabbits. They were so much bigger than the kittens. They were huge - they bit us, but they were lovely."
Then there was the image that made the cut - all four girls sitting in a tractor scoop, wearing nothing but a smile.
"Even just wearing togs to the beach you think everyone's looking at you - minus the togs you are literally baring all ... I knew I needed to take part - it's a tradition - I had to give it a go or else I was going to regret it later."
While some people prepared with fake tan, others took a more dedicated approach, she said.
"I dreaded it in the weeks leading up. I thought, 'I should have been exercising all the time'. People were like, 'I have been exercising for a year'. I was like, 'I shouldn't have eaten that cake yesterday'."
Tan lines from summer placement on rural properties were an issue - but seeing as they didn't "get around" to a spray tan, sock marks were "dealt to" with a touch of Photoshop.
There were also some comical moments when shooting the entire class photo, which required all 70 people to climb disrobed, on to a stack of hay bales.
"Some people were quite clumsy, they were tripping up over fence wires. We all had lab coats on but they would flash up."