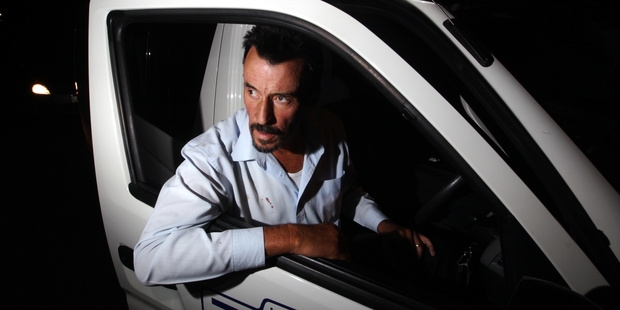 A man has been charged with assault after throwing a pie at a taxi driver during a road rage incident in central Hastings.
Eastern District Command Centre Senior Sergeant Ross Smith said police were notified of the attack by a member of the public yesterday afternoon.
The offending person fled in a motor vehicle and was stopped by police shortly afterward, Mr Smith said.
Constable Jeremy Natusch said the taxi driver had been waiting to pull into a taxi bay near the iSite on the corner of Russell and Heretaunga streets when the offender had become annoyed, approached the vehicle, exchanged words with the taxi driver and assaulted him.
A pie was thrown at the taxi driver during the assault, Mr Natusch said.
The taxi driver was left with minor injuries and a blood nose and "he seemed to be pretty shaken about it", he added.
The offender had made a voluntary appearance at Hastings police station and was charged with assault. The offender would appear in court next week, Mr Natusch said.
The victim, Hastings Taxis driver David Greville, said he had never been assaulted in 22 years of driving taxis.
"It was just somebody out of the blue, I'd never seen him in my life," Mr Greville said.
"The stand was full of taxis. I've got a wheelchair van. I was called to the stand for a guy in a wheelchair."
The client had taken time to arrive at the stand in the past, Mr Greville said. "He can be a bit slow sometimes, so I was waiting for him when this guy comes out and says 'can you move on?'
"I said 'what are you talking about? I'm picking up a fare'. Cars could get by. Traffic was light. I said 'are you a policeman?' then he punched me in the face.
"He reached through the window and grabbed me and then he chucked a pie in my face."
The half-eaten steak pie was hot, Mr Greville said. It hit him in the face and went down his shirt.
The offender didn't seem drunk or on drugs, "just angry," Mr Greville said.
There were seven to eight witnesses to the attack, including a parking meter officer.
Mr Greville then drove to the police station, his shirt stained with blood.
"We [taxi drivers] put up with a bit of crap," Mr Greville said. "People don't realise.
"You get abused in Havelock North at night time, but I've never been physically assaulted."
Mr Greville was never able to pick up his fare, as the client was mistakenly waiting for him at Hastings Countdown.