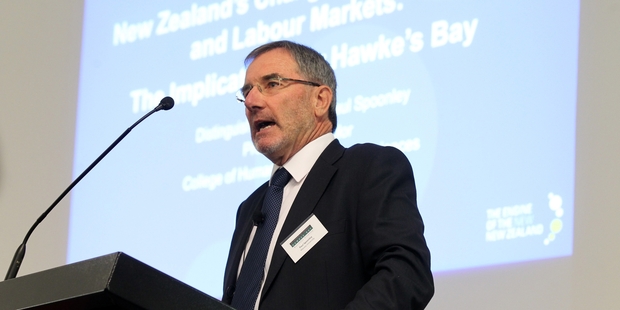 New Zealand has a world-leading programme to attract skilled migrants but Hawke's Bay is missing out on the benefits, a leading academic says.
Professor Paul Spoonley, of Massey University, said encouraging educated and business savvy settlers from overseas to the region would help address major issues Hawke's Bay faces, including an ageing population, a skills shortage and sluggish economic growth.
"You're falling further and further behind, so population growth, if it's not a major agenda item for Hawke's Bay, it should be because you need those skilled workers," Professor Spoonley told an audience of about 100 in Havelock North last night.
"Jobs are not going to stay in the Bay if you don't have that supply of skilled workers, of younger workers."
The Auckland-based pro vice-chancellor of Massey's College of Humanities and Social Sciences grew up in Havelock North and is an eminent sociologist who has written or edited more than 25 books on race, immigration, employment, national identity and population issues in New Zealand and global contexts.
He was speaking along with other Massey academics at a Future New Zealand symposium, held in conjunction with the Hawke's Bay Chamber of Commerce.
"You're not getting the benefits of immigration. There are issues there and there are political sensitivities, I realise, in Hawke's Bay when immigrants are brought in and locals are not getting jobs. I'm not suggesting you replace locals with immigrants. You need both."
Finding ways to make it more attractive for young people living in the region to remain here was another part of the challenge, he said.
Another speaker at the symposium, Associate Professor Dennis Viehland, said part of the solution to attracting and retaining skilled workers involved creating an environment designed to support and encourage the new wave of "knowledge workers" and remote workers who were seeking a better lifestyle and work-life balance.
"If you can build an infrastructure for the knowledge economy you will attract the type of workers that you desire," said Associate Professor Viehland, whose areas of academic interest include mobile business.
Infrastructure for the knowledge economy included technology such as fibre broadband but also an "attitude change" amongst employers that enabled staff to be flexible about where and how they worked, he said.
Professor Claire Massey, director of the university's agrifood business, said New Zealand's traditional economic strengths were in agriculture and the country's competitive advantage in the future would involve continuing that legacy with innovative food production.
New Zealand had advantages over international competitors when it came to food production - including high-quality science and innovation networks, a strong national brand and excellent growing climate - and Hawke's Bay had "a huge part to play" in the country's's success.
The region's strengths included good transport links, a string base in horticulture and a well-developed tourism infrastructure, she said.