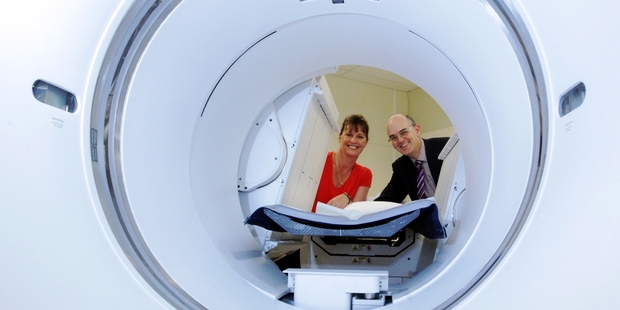 Minister of Health Tony Ryall officially opened two new scanners for use at Hawke's Bay Hospital yesterday.
The $2.5 million diagnostic CT scanners enable a picture to be drawn using computer-processed x-rays, in place of exploratory surgery.
Radiology manager Paula Jones said it was a great day for Hawke's Bay patients.
"We now have two scanners that provide diagnostic CT capability that can back each other up if we need them to," she said.
"This will reduce wait times, and will mean people won't have to travel out of town if the main CT scanner is out for maintenance.
"In 2004 funding for the old CT scanner was donated to Hawke's Bay Hospital by the Tom McCormack Estate and we have been very grateful for that. The CT scanner was a great workhorse and completed over 9000 examinations a year."
Hawke's Bay District Health Board chief executive Kevin Snee said the board was in the happy position where it could make capital investments to keep the standard of care high, such as the recent development of the Wairoa Health Centre, a seventh Hawke's Bay Hospital operating theatre, a new mental health unit (currently being developed) and a new renal dialysis unit.
The board is heading into its fourth year in the black, on track to achieve a $3 million budget surplus.
The two new scanners, a CT (Computed Tomography 128 slice) and a NM (Nuclear Medicine scanner in conjunction with a CT 16 slice scanner), replace the ageing CT 40 slice scanner and single slice nuclear medicine scanner that had limited diagnostic capability.