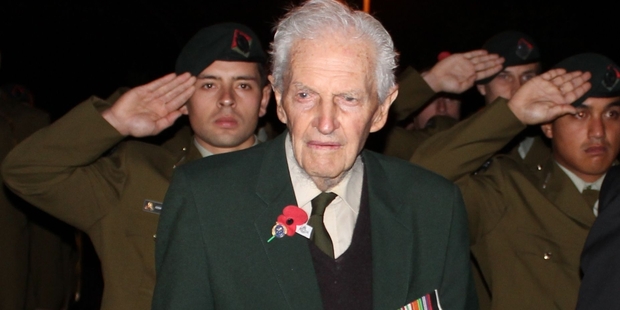 The Ex-Royal Navalmen's Association Anzac service had an international family flavour to it in Napier yesterday.
The Australian and US militaries were there - with the representatives delighted to be part of a small but unique commemorative service at the association's Ford Rd rooms because it also meant they could spend a bit more time with their dad and grandfather.
"It's a wonderful occasion to have all the family here," Royal New Zealand Navy veteran Norm Bitters said.(pictured right).
The 92-year-old veteran was accompanied by his sons, John and Rodney, and Rodney's son Robert for the raising of the ensign. Rodney is a warrant officer (second class) in the Australian Army where Robert is a lieutenant.
Father and son both serve with the Australian Army, with Rodney and his family having moved to Australia in the late 90s.
Robert followed his father's military path.
John Bitters also moved overseas having been with the New Zealand Army territorials before joining the SAS selection and gaining a parachuting certificate.
He was on secondment to the South Pole when the American services there approached him, having realised he had specialist parachuting and other skills.
"They made me an offer I couldn't refuse," he said.
He joined the US services in 1974 and worked with the sea air and land teams (Navy SEALs) as well as becoming a consultant for cold-climate training based out of Kodiak, Alaska.
While basically retired from service now, he said he still did some "puddling around" with the military as a consultant. "We all try and catch up as a family once a year - usually around this time," he said.
His father, Norm, who served between 1942 and 1945, was delighted to catch up "with the lads".
About 15 navy veterans, called to parade by Yeoman Lindsay Glassey, lined up for yesterday's service which was also attended by about a dozen Sea Scouts.
The Reverend Bill Chapman, also a navy veteran, led the ode and addressed the gathering of about 50 veterans, friends and family. "This is the prayer for you old salts," he told the veterans.
"We give thanks for those who laid down their lives in war."