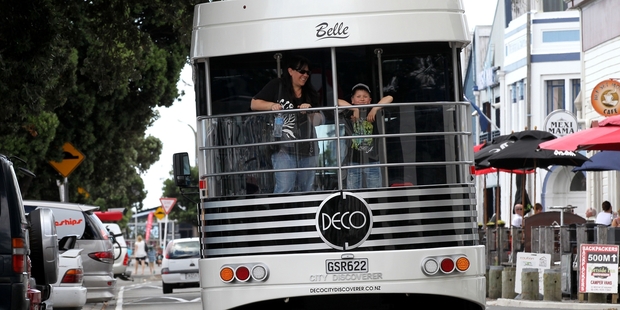 Napier's problem-child Art Deco buses are looking for new homes after the city council's decision to abandon the tourism bus service.
The decision on how to dispose of "Veronica" and "Belle", two buses rebuilt in the US from chassis bought in France and imported to run a specialist service between Napier's Marine Parade and Westshore, was made by the council last week.
The Deco City Discoverer service was introduced as an alternative to trams, which were proposed by Ahuriri businesses as a tourist link to downtown Napier and Marine Parade.
The buses will make their last run on May 4, and then be advertised by the end of next month for sale by tender.
The service hit trouble before the buses were put into service, arriving in an unroadworthy condition.
Bought in France and customised in the US, the buses arrived in New Zealand in October 2012.
But multiple faults, bringing the council into dispute with the builders in the US, meant they were unable to be put into service until the end of last summer, missing thousands of potential passengers from cruise liners as well as Art Deco Weekend 2013 visitors.
Mayor Bill Dalton, a member of the council which decided on the service before he took the top job last October, said feedback on the buses from patrons had been positive, but lower-than-forecast passenger numbers and the high maintenance costs meant the service was "not a viable venture" for the council to continue to operate.
"The school holidays will provide an opportunity for people to take a ride on the Deco buses if they haven't done so already," he said.
"There are lots of interesting things to see and do en route the buses and the commentary provided on-board gives patrons a great overview of the history of Napier and Ahuriri."