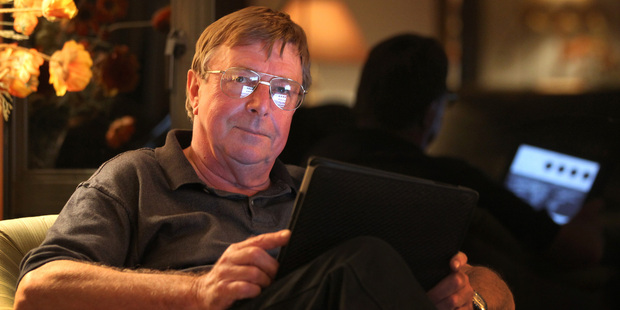 A Napier man has received confirmation of his wife's safe arrival at Everest Base Camp just hours after an avalanche claimed 12 lives on the mountain.
Napier Tramping Club president Julia Mackie, with club members Alison Greer and Les O'Shea, reached Everest Base Camp on Saturday, "only a few hours" after an avalanche in the Khumbu Icefall, said husband Brian Mackie.
Mr Mackie was receiving brief updates from his wife at his Napier home via email, Skype and FaceTime during his wife's 20-day trek in the Himalayas. He received a photo via email from his wife of the trio posing triumphantly at Base Camp on Saturday.
There were lodges along the route to Base Camp that provided "some creature comforts," including Internet facilities, Mr Mackie said.
At least 12 Nepalese advance party guides were killed and four others were missing after the avalanche struck about 6.45am local time (12.45pm NZT) on Friday in an area known as "popcorn field", just above Everest base camp at 5800m.
The incident was the deadliest accident on the world's highest mountain. Despite the tragedy, Mr Mackie had "never been concerned" for his wife's safety.
"They're heavy-duty trampers," Mr Mackie said. "The biggest problem they'll face is altitude sickness." One of Mrs Mackie's fellow trekkers, Jenny Burns, had been unable to reach Base Camp due to altitude sickness, and Mrs Mackie had suffered from altitude sickness herself, Mr Mackie said.
Although it was their first time at Base Camp the party could draw on a wealth of tramping experience. Only last month they had been trekking in Mount Aspiring National Park in the South Island and Mrs Mackie was a member of Search and Rescue New Zealand.
Mr Mackie didn't quite share his wife's zest for climbing. "I'm a pilot. I fly airplanes because it's quicker and I don't have to carry a load," he said.
Mrs Mackie hoped this week to visit schools involved in the Classrooms in the Clouds project, which built classrooms in the rural areas of the Everest region of Nepal. The trekkers had brought stationery supplies from New Zealand to donate to the classrooms, thanks to support from Warehouse Stationery.
"I daresay this won't be the last time she takes on a challenge like this."
Mrs Mackie was due to return to their Puketiri Rd lifestyle block on May 3. "I miss her terribly," Mr Mackie said.