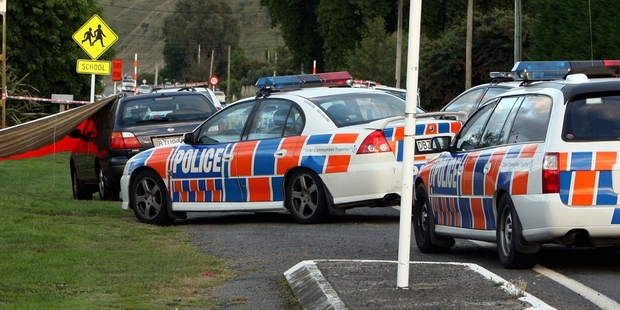 A coroner is concerned police officer training was overridden by instinctive nature during the 2011 fatal shooting of a Hastings teenager, a court has heard.
The coroner's inquest, which began yesterday at Hastings District Court, will be a fact finding mission into the 14-shot police volley which killed Lachan Kelly-Tumarae, 19, on March 28, 2011.
The shooting came as the Flaxmere man exited a vehicle near a State Highway 50 marae cemetery, following a 14km low-speed pursuit from Napier after aiming a shotgun at police.
The officers involved cannot be identified amid fears for their safety and their families.
Detective Inspector Scott Beard, who was tasked with assessing criminal liability during the subsequent investigation, named Operation Angler, gave evidence about the review.
Coroner Peter Ryan said he was "concerned" police training was "overridden by instinctive nature" at the scene of the shooting. Mr Beard agreed with Coroner Ryan saying officers had "narrowed" their options to "neutralise or de-escalate" the situation.
"Sometimes things are happening so fast and so quick there isn't time," Mr Beard said.
He added, in a dark, night-time environment with other officers in the area it would be "logical" for the shooting officer to call out "armed police", as he did.
"Remembering what started the incident was the shotgun had been presented to a police officer in Napier 20 minutes earlier," he said. "Whether the officer's actions where instinctive, I can't answer."
The 33-year veteran officer based in Auckland said one of the policeman's firearms training had lapsed and he was no longer certified to handle a Glock 9mm pistol and M4 Bushmaster rifle. He was not the officer who fired the volley of shots.
Today the three police officers involved in the shooting will give evidence with their identities protected from the public.
Mr Kelly-Tumarae's grandmother, Narina Tumarae, gave the court an insight into the behaviour of her grandson the night he was killed.
"He had a nice smile on his face - all he said was 'you alright nan, what are you doing?'."
She believed her grandson went to bed after returning home and was unaware, until informed by police, he had left the house and taken off with her late husband's shotgun, ammunition and her car.
"I've been trying to run it through my head, why? I've never seen him touch that gun or use that gun before."
She said after returning from Christchurch she helped her grandson remove himself from the Mongrel Mob and was excited about his prospects of joining the Army.
She said the night the 19-year-old was killed she was woken by an abnormal gust of wind, rattling her blinds. Remembering when her husband died, a similar wind had shaken her and she believed it a sign her grandson had been "taken".
Mr Kelly-Tumarae's friend of 10 years, Ahitana Petuha, said the pair were drinking and smoking marijuana the night of the shooting.
He said his friend was still a "red supporter" even after leaving the mob, but remained baffled at what happened after appearing "happy" and "normal" just hours before his death.
Last year the Independent Police Conduct Authority released its 94-page report into the early-morning shooting at Omahu.
The report found a Hawke's Bay policeman's 14-shot volley, which killed Mr Kelly-Tumarae, was justified because of the threats to the officer's own safety.
Investigations revealed the officer fired 14 shots, four wounding the man and another appearing to have passed through Mr Kelly-Tumarae's clothing without causing injury. The other nine bullets did not appear to have hit the man or his clothing.
The inquest continues.