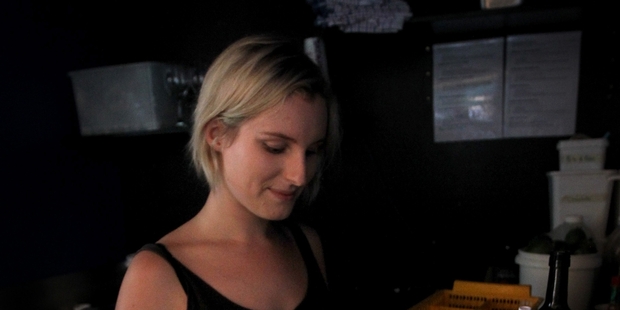 Simultaneous lightning strikes sent the East Coast into the dark ages as power and communications were severed to Hawke's Bay and Gisborne for 75 minutes yesterday.
Transpower corporate communications manager Rebecca Wilson said a double lightning strike knocked out two Transpower circuits about 40km east of Taupo.
She said the power supplied from Wairakei was the main source of electricity for Hawke's Bay.
"Two lines on the same transmission tower were struck at the same time. We do prepare for this but it is quite unusual for two lines to be struck simultaneously, usually if one goes then the other line can feed the power."
She said the lightning storm was a flash out of the blue and was not forecast earlier in the day.
"We do have regular lightning strikes on our network and we monitor the weather carefully but that's mother nature for you."
Transpower said in a statement the power outage affected about 80,000 customers.
Power was restored to Hawke's Bay about 75 minutes after it went off about 3.50pm and caused traffic congestion on the wet roads as employees left work early.
Unison customer-relations manager Danny Gough said social media was a vital component of communication during the black out.
"All our land lines and communications were cut so we were solely reliant on social media and the internet there for a while."
He said the power company began experiencing problems about 3.30pm as the storm began to wreak havoc with the network.
He added about 60,000 Hawke's Bay Unison customers were affected but immediate concerns lay with restoring power to the "vital lifelines", including police and fire services, the hospital and airport.
"Most of these services have their own fleet of generators in preparation for events such as this but we work as fast as we can to get their power back first and then to all our customers," he said. "There were a few hairy moments but that's mother nature for you, and it certainly shows how dependant we are on technology. It sure was a test for us today."
A Hawke's Bay Hospital spokeswoman said patient care and those in surgery were unaffected as the lifesaving generators immediately switched on.
"We have enough fuel to last three days and theatre, ED and our telecommunications all switched onto generators without any problems."
The Fire Service responded to four incidents during the outage including one person trapped in a lift at McLean Towers a building in Napier.
Acting Senior Sergeant Clint Adamson said there were no major police incidents during the outage.
"There was the potential for mischief and mayhem on the roads and a few people forgot the give way rules but otherwise everything was fine."
An Air New Zealand representative at Hawke's Bay Airport said the back up generator was a "lifesaver".
He said it provided power to the airfield lights, control tower and rescue fire crew at the airport and kicked in without hassle.
MetService meteorologist David Miller said last night the lightning strikes over the central North Island were easing off but remained unpredictable.
He said it was a myth lightning wouldn't strike the same place twice and can actually be "very likely" because lighting bolts take the "path of least resistance" when thundering towards the earth.
"Big metal objects or things with big antennas are always going to be likely targets," he said.
During the outage some staff at the BNZ branch in Hastings reportedly climbed out windows because the automatic doors would not open, while the Silver Fern Farms Hawke's Bay Farmer of the Year ceremony was unaffected by the outage because of two generators.
The Hawke's Bay Festival of Hockey also went uninterrupted and its three games played yesterday continued as scheduled, including the 5pm Australia v Korea match and the 7pm Black Sticks v Japan fixture.
Power came back to Hastings first with Havelock North and Napier following shortly afterwards.
Outage on Facebook
When the power went off yesterday, we took to Facebook to ask our readers how they were affected. This is how they responded:
Karla Jurczakowski
Back on here but there will be pockets that will have to wait. Such a nuisance.
Jessica Smith
lol anybody affected?
Trewey Black
No power
Jessica Smith
Where's it back on
Eve Whakatutu
Oh such fun
Manda Edgar
No power bluff hill
Hannah Duncan
I'm in Raureka, no power here.
Brooke McKelvie
This is fun still out in havers
Jazmin Clarke-Payn
no power in maraenui
Carol O'keeffe
Marewa here...mayhem driving home from work, with no traffic lights. Its like people forget how to negotiate an intersection we had the barbeque all cranked up and ready to go and then the power came back on.
Jessica Smith
Oops its back
Kaz Green
We got power in william street marewa
Martha Raroa
No power maraenui
Katrina Berry
No power in Ahuriri Napier
Bamz N Bill
Chb here, we never lost power
Debbie Wells
No power
Carol O'keeffe
Where in the nui are you, Martha? daughter is in bledisloe and still no power
April Halton
Hastings city was crazy with no traffic lights. I am grateful most people were being very considerate to others.
Danton William Smith
It went out just as I left to go to the shop so when I got there they couldn't cook any chicken or use the eftpos and only had like six bucks change on me
Jules Cunningham
hehe HBT , guessing you had to wait for the power to come back on and ask who had none? Giggle
Nadine Bott
I agree Hastings was crazy!!
Diane Julie
Boardman Back on in Westshore....was off for one hour.
Leigh Plummer
Back on in Raukawa, south west of Hastings
Christine Albert
Yep no power at our dojo down st aubyn st..
Shani McCulloch
napier @ 4.30pm with no traffic lights......bedlam!
Robyn Foulds
Yup in Taradale for just under 2 hours. Had the candles lit just in case.
Kathie Wigzell
Real pain
Rose Arlidge
Yep, candles and torches sorted plus a portable gas cooker and a gas bbq. Sorted.
Karly Onefiveseven
A huge THANK YOU to the Linemen & women who made this happen for us!
April Halton
Lipscombe/Havelock has power
Brooke McKelvie
Napier doesn't have power
Craig Dillon
We will rebuild
Michelle Daphne Kingi
Green meadows has power
Amie Pollett
Napier...not yet in the moment
Melinda Bennett
Onekawa has. Awesome work "fixing" it, as I was only without for 42minutes!