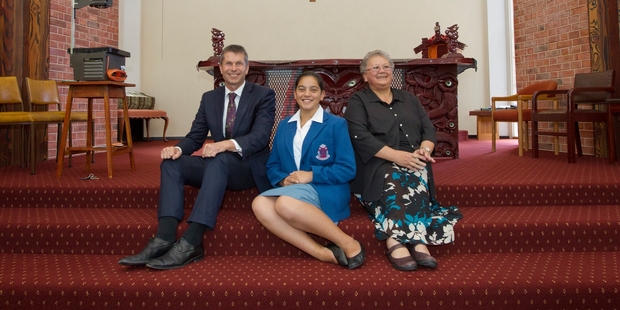 St Joseph's Maori Girls' College student Ngapera Aperahama has staked an impressive place in the school's long and impressive records book.
She has gained an Outstanding Scholarship in the NZQA 2013 New Zealand Scholarship Awards for the subject of te reo - an achievement usually only gained by students in Year 12 and Year 13.
But the 15-year-old was only in Year 11 when she sat for the scholarship last year, after the school's te reo teacher, Ripeka Wiki, realised the teenager possessed special skills, even at that age, to have a shot at gaining a national scholarship.
"If we can identify students who we feel can achieve then we enter them," Mrs Wiki said.
"It demands critical thinking skills and the depth in her knowledge was outstanding."
Ngapera said she felt slightly daunted and "a bit scared" when she first saw what was involved in the three-hour examination, but after carefully reading through the instructions began to feel more relaxed.
The examination involved writing about specific topics in Maori as well as making an impromptu presentation.
She believed she had done well, but when the results emerged even her confident tutors were amazed.
Ngapera had made the list of 35 national scholarship recipients in their respective subjects, but beside her name was the letter O in brackets.
"We weren't sure at first what it meant," the school's head of English, Radne Ardern, said. "Then we realised it was the 'Outstanding' award - she had got full marks."
While St Joseph's had produced scholarship achievers before, it had never had an Outstanding Scholarship, and it was the first time a Year 11 student had gained a scholarship of any form.
"She was at a level where she could have done a university paper last year but was too young," Mrs Wiki said.
"But she can do it in the second semester this year."
Ngapera said gaining the achievement was a blessing as it would allow her to take her education to a higher level and was quick to pay tribute to the support and encouragement of her family and the devotion of Mrs Wiki.
"She inspired me so much and I am so grateful to her," she said as she turned to look at a clearly proud Mrs Wiki and with a little emotion coming through said, "Thank you."
When Napier MP Chris Tremain heard about the scholarship success he said he wanted to meet her to offer his own congratulations.
"She has done so fantastically well and it is wonderful that we have terrific role models like Ngapera in our community."
He told her, and Mrs Wiki, that lunch was on him.
Ngapera, who also enjoys maths, English, sport and music said she would use her university scholarship to study Maori philosophy and had ambitions to become a teacher.