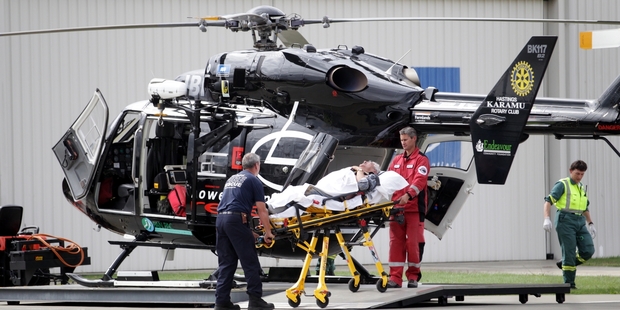 A man was airlifted to Hawke's Bay Hospital after he was kicked in the back by a cow in Otane yesterday.
The Lowe Corporation Rescue Helicopter flew the 67-year-old to hospital from a farm on Elsthorpe Rd, about 5km east of Otane.
Rescue helicopter pilot Jeremy Bruce said the man was in a lot of pain.
"He was lying on his back on the outside of the yards.
"They had been separating the cows from the calves and pregnancy testing the cows when a cow walked behind him and kicked him in the back."
The man had managed to crawl outside the yard to raise the alarm and his workmates called for help.
"We had to give him a decent amount of pain relief to reposition him on a stretcher."
A neighbour said the man and his wife were "good, hard-working people", who have been "part of the community for years".
The rescue helicopter was called to about two accidents in cow yards in Hawke's Bay a year, Mr Bruce said.
"Some cows are 600-700 kilos; they can pack a punch."
A Hawke's Bay Hospital spokeswoman said the injured man was in a stable condition last night.