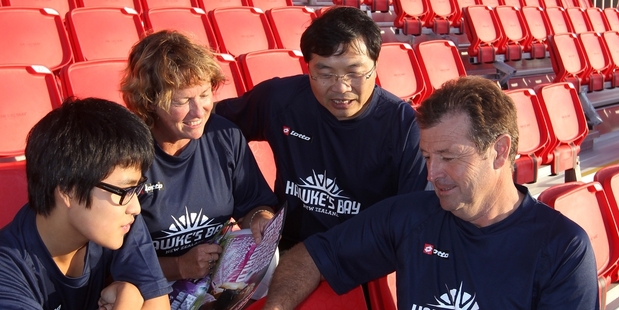 The inaugural Hawke's Bay Festival of Hockey is four days away, but economic benefits of the world-class, international event were already being predicted.
National and international teams will converge here for nine days of competition, 65 games in total, starting on Saturday.
Korea would be the first to arrive today followed by Argentina, Australia, China, New Zealand and Japan.
Event manager Bruce Mactaggart said an economic impact study of visitor room numbers showed figures well exceeded previous years.
"You can't get a hotel room for love nor money, as far as we can tell from ticket sales. We are getting people from all over the country and a group from as far away as Amsterdam," he said.
Extra bookings came at a time of year when tourism started to slow down, providing a welcome spike in business for local motels and hotels.
Navigate Seaside Accommodation property manager Andrew Buenter said they were hosting New Zealand and Argentinian teams.
Napier Moteliers Association president Clinton Green said he knew of motels booked out with players, but was yet to see a groundswell of supporters coming from out of town.
"I have been out in the traps visiting our properties, but most are yet to be approached by spectators at this stage."
Claremont Motor Lodge owner Julie Smith, believed the rush may be last minute as people wait to see an updated weather forecast before booking.
It was not only immediate spending which would give the local economy a lift, but the flow-on effect, whereby Hawke's Bay would be presented to a global audience, Mr Mactaggart said.
"It will be live-streamed and take that Hawke's Bay brand to the world. All in all it's creating a direct economic impact."
Hastings Mayor Lawrence Yule said he believed the dollar benefits might not be huge for the first event, but expected it to grow year on year as Horse of the Year had done.
"We get the odd rugby test or cricket match but to get a 10-year event with arguably the top 10 women's teams in the world it's got to be good."
It was also an opportunity for locals to watch elite competition, right here in their own back yard.
Event co-ordinator for the festival David Nancarrow said he expected 1000 to 1200 people at Hawke's Bay Regional Sports Park on Saturday and Sunday.
Final matches would be held at Unison Hockey Stadium at Hawke's Bay Regional Sports Park from April 12 to 13.
Tickets are available from www.ticketmaster.co.nz