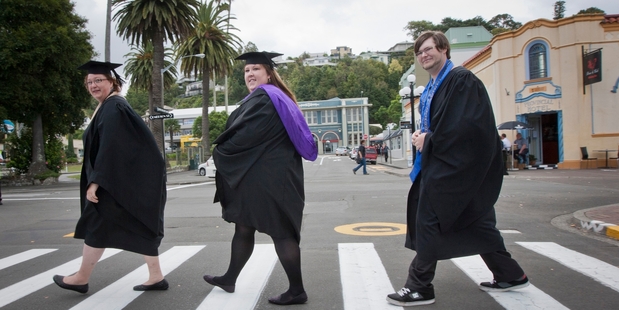 It's all about degrees.
Very much so in the case of Haumoana's Sally Stewart and her daughter Samantha as they both graduated and celebrated their achievements together at the Eastern Institute of Technology's afternoon graduation ceremony staged in Napier yesterday.
They were one of two pairings of mother and daughter who graduated together. Roni and Puhiwahine Nuku were each capped with a Bachelor of Arts (Maori).
Mrs Nuki's husband, Mike, is also a graduate of the EIT, having achieved a Bachelor of Arts Honours (Maori) several years ago, and he proudly enjoyed their celebrations.
Mrs Stewart, who attained a Post Graduate Diploma in Health Sciences, said she was proud of her daughter and, with a smile, her daughter said she was proud of her mum, who had inspired her.
"I left high school but didn't know what to do and I thought, well, if mum can do it then so can I," Samantha Stewart said.
She put in four years to gain a Bachelor in Nursing, and last week started her job as a community nurse and plans to one day work in the public nursing sector.
Mrs Stewart is a senior nurse with the Hawke's Bay District Health Board based at the Napier Health Centre.
Husband and father, Tim Stewart said he was proud of what they had achieved through the EIT as the family only moved out to New Zealand from Cambridge in the UK six years ago.
Hastings man Ben Ellen was pretty chuffed as well. Samantha Stewart is his girlfriend and he was able to join her in the parade up Emerson St as he picked up a Diploma of Sport and Recreation.
They were among about 390 graduates awarded diplomas, bachelor and honours degrees, postgraduate diplomas and master's degrees across a diverse range of fields at the capping ceremonies staged on Thursday and Friday.
For the EIT 2013 was something of a bumper year given the number of graduates making the grade.
The numbers were up by 23 per cent on 2012 which had also been a record year and meant the traditional capping ceremony had to be staged across two days.
The proportion of younger people gaining degrees was also on the rise with 31 per cent of the institute's degree graduates under the age of 25.
On Thursday, the ceremony began with a karakia opening prayer from Rawiri Andrews and graduates were addressed by time management and negotiation coach/trainer David Todd.
Later the graduates from the Schools of Applied Science, Business, Computing, Tourism and Hospitality and CAD (design technology) marched through the central city cheered on by friends and family who lined the way.
EIT council members, senior staff and academic staff also proudly joined in, along with Hastings Mayor Lawrence Yule and Tukituki MP Craig Foss.
"It is a hugely important day for everyone," Mr Yule said.
He graduated from Canterbury University "a few years ago now" with a Bachelor of Engineering and could appreciate what the latest graduates were feeling.
"It's the sense of achievement after all the work and toil."
Mr Yule said the EIT was recognised as the best institute of its kind in the country and Hawke's Bay people could be proud of it.
Yesterday, after a karakia from Matiu Eru and an address by Taradale High School principal Stephen Hensman, graduates from the School of Education and Social Sciences, ideaschool and Te Manga Maori stepped forward to receive their rewards for the hard work put in.
The afternoon ceremony saw graduates from the Schools of Nursing and Health and Sport Science honoured.
In keeping with the record numbers at its biggest graduation event yet, the EIT increased the number of valedictorians from two to three.
Shiran Atira, Angela Beattie and Philip Shambrook all made addresses on behalf of their fellow graduates.
The public accolades, through the traditional march, was a positive way for the community to say "thank you" to people who had made an investment in the future, EIT chief executive Chris Collins said.
"Enjoy your day and bask in your success. We are proud of you."