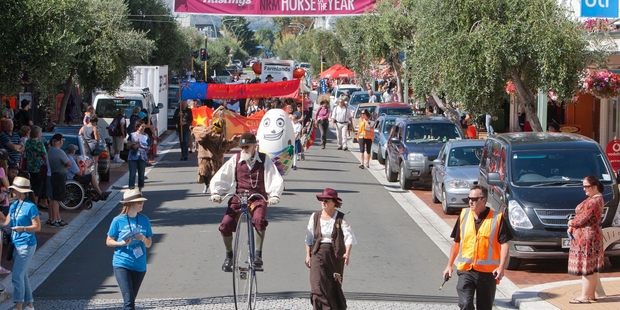 A sun-drenched Heretaunga Street was packed with 2000 onlookers yesterday as the Horse of the Year Parade rolled through town.
Roads were closed especially for the loud and colourful procession including Lyndon Street East, Warren Street and parts of Heretaunga Street.
The second annual parade was bigger than last year's, with 30 horses in total. Leading the charge was Kiwi champion Sir Mark Todd, perched on a wagon drawn by two 900kg Clydesdales. The towering Clydesdales dwarfed Hawke's Bay Today's own miniature ponies.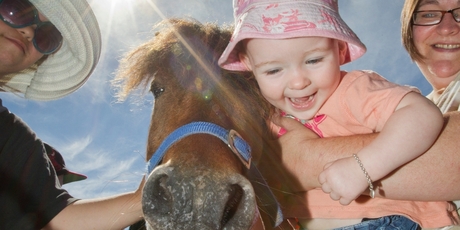 Another highlight was the down-to-earth charm of comedian and TV personality Te Radar, who encouraged onlookers to get along to the Hawke's Bay show rounds. There was also a lively Chinese contingent, celebrating the Year of the Horse, and Horse of the Year's first Chinese riding team.
Parade Manager Craig Ireson, of the Hastings District Council, was "very pleased," with the event, particularly the participation of the Chinese team.
"You could see them go by on their wagon, touting iPads and iPhones ... It left quite an impression on them."
On the hoof
*Comedian Te Radar has been mucking in as VIP Volunteer at Horse of the Year 2014. "I love a parade, especially a parade involving horses," he said of yesterday's spectacle. "People might not realise there are over 2500 horses over at the show grounds until they see some of them galoomphing down the road." Radar is staying in Hastings for the event. He is looking forward to the Hawke's Bay Today Equestrian Extravaganza, which kicks off at 5pm this evening. "Anything with the word 'extravaganza' in it, I'm there," he said.
*Bay-based Blackstick Emily Naylor joined the parade to help showcase the Hockey Festival to be hosted at the new turf at the regional sports park on April 5-13. Six nations will compete in the event. Also part of the parade was a giant cricket ball on wheels, signifying 330 days to go until the Cricket World Cup. New Zealand vs Afghanistan, among other games, will be hosted by Napier's McLean Park.
*Chinese Rider Xin Gang Wang, from Beijing, is excited to join Horse of the Year for the first time. He's also loving the Hawke's Bay region and our local hospitality. Watch Wang compete in the final round of the Tri Nations competition at the Classic Hits Variety show on Saturday at 9pm.
*Any "presents" left by the 30 horses involved in yesterday's parade were promptly collected by a maintenance team.