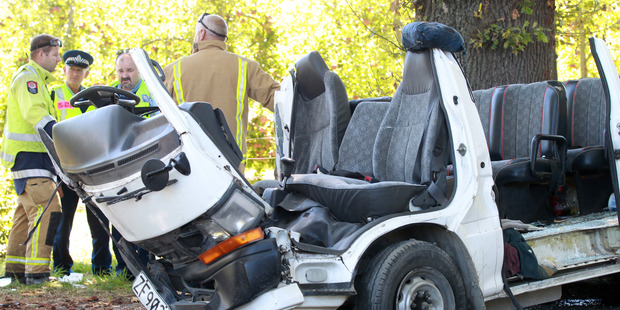 A critically injured Hastings man was freed by fire crews using a new rescue technique, after a serious accident left him trapped inside a van in the city's Oak Ave yesterday.
St John Heretaunga territory manager Brendon Hutchinson said the man, in his late 20s to early 30s, was taken to hospital in a critical condition following the crash, about 1.30pm.
Hastings fire Station Officer Michael Manning said emergency services arrived to find the driver "heavily trapped" from the chest down.
"The paramedics said he was status one, which is critical, and that meant we employed our time-critical extraction technique.
"We only use this technique when the patient is extremely ill, because it will offer the best chance of survival. Today was a good example of excellent cohesion with the paramedics."
Mr Manning said time-critical extraction had been adopted by New Zealand's top 15-20 rescue tenders. The method involved emergency crews making a series of release cuts on the damaged van after tension was created by chains pulling at the vehicle.
"It literally pulls the steel and metal off the person who is trapped in a slow and controlled way, while the paramedics and our guys are able to provide patient support to the person still inside." Using the new technique following yesterday's accident had saved about 20 minutes of extra time usually required to free the victim.
The man was trapped for about 18 minutes from when fire crews initially arrived at the scene.
Sergeant Ray Kirkby said police were appealing for witnesses to the crash and were investigating how the vehicle had crossed on to the other side of the avenue and slammed into a tree.
"There was extensive damage to the van and the driver received extensive injuries, including leg injuries.
"First on the scene was another motorist, who saw the smoke and knew something was wrong. There were no immediate witnesses."
The Serious Crash Unit is investigating the accident.
The driver was in a serious condition in Hawke's Bay Hospital last night.