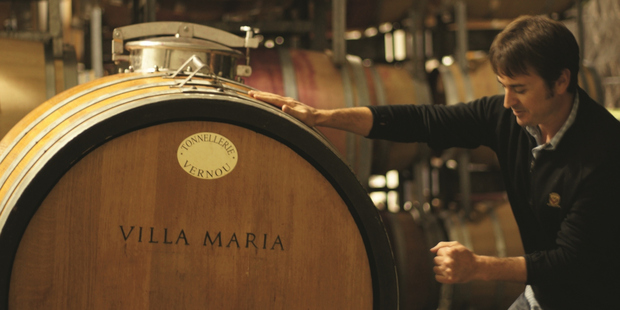 Eight Hawke's Bay wines have picked up gold medals at the 2014 Easter Show Wine Awards and are in the running to take out a prestigious Trophy Award at the awards dinner being staged in Auckland next month.
Villa Maria, which came away with 13 gold medals topped the Bay list with three - for their 2012 Reserve Hawke's Bay Chardonnay, 2012 Reserve Gimblett Gravels Hawke's Bay Cabernet Sauvignon Merlot and the 2012 Cellar Selection Hawke's Bay Syrah.
The syrah was one of only two golds awarded in that category.
The result delighted Auckland-based senior winemaker Nick Picone, and being Hawke's Bay-born he was pleased to see the region's wines among the golden list.
"Absolutely - and what makes it so special is that they came from such a tough and challenging vintage," he said.
"Especially the cabernet sauvignon merlot because it was the coolest vintage (2012) on record over the past 20 years."
He said vintages like 2011 and 2012 made the whole vineyard overseeing and winemaking process "so much more involved" and meant winemakers had to take a slightly more cautious and conservative approach to their work.
"So it is very rewarding to make great wines in tough years," Mr Picone said.
He had big expectations for Villa Maria's 2013 Hawke's Bay vintage wines as it was a season adjudged as being possibly the best ever. "We are going to start bottling the 2013 chardonnay's on Monday."
He was also pleased with the overall medal results as the awards had been bestowed upon wines from all around the country.
Of the other Bay vineyards, Esk Valley picked up a gold for its 2009 Winemakers Reserve Gimblett Gravels Merlot Malbec Cabernet Sauvignon.
The winery also grabbed a gold for its production of 2012 Pinot Noir - although the grapes were sourced from Marlborough.
Maraekakaho's Osawa Wines added to their growing awards list for their Prestige Collection Methode Traditionale NV in the sparkling wines section.
In the chardonnay class, where 13 golds were awarded overall, Clearview Estate came through with their 2012 Reserve Chardonnay as well as CJ Pask for its 2012 Declaration Chardonnay and Sileni Estates for its 2012 The Lodge Chardonnay.
Awards director Shona White said the 1217 entries, well up from the 1130 last year, reflected increasing confidence in the wine sector.
It was also indicative of the "expectation of more favourable combined economic conditions".
All up there were 79 gold medals awarded, 17 of them in the Marlborough-dominated sauvignon blanc category, with 203 silvers and 447 bronze.
The Trophy Awards event will be staged on March 22.