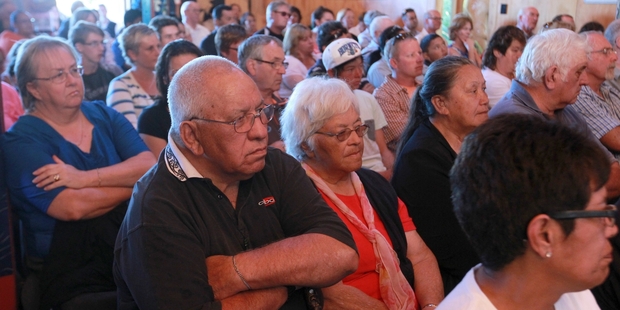 Janet Titchener's patients and supporters gathered at the Te Aranga Marae in Flaxmere last night, searching for solutions in the wake of the Hawke's Bay District Health Board cutting funding to the successful GPSI diabetic service.
The DHB had not renewed its contract with the $150,000 per annum service and previously stated it was not cost-effective.
About 140 people attended last night's hui, most speaking about how Dr Titchener and the GPSI service had changed their lives.
Before the meeting, DHB chief executive Dr Kevin Snee refused to send staff to the hui, fearing personal attacks.
Businessman Andy Lowe said he offered to fund an independent review to compare the cost of the GPSI service to the DHB service, but the health board had declined.
"A couple of my staff members approached me, who have diabetes, and the hardship, sorrow, they and their families have to go through and how much help Janet has been to them convinced me to get involved.
"A lot of people are scared. They are worried about what will happen to themselves and those recently diagnosed with diabetes when the service is gone."
Flaxmere resident Ruth Wong was diagnosed with diabetes in 2002 but was only told by her DHB doctor, after six months of treatment, she had the disease.
"I should have been dead - My blood-sugar levels were in the 30s but once I started getting treatment from Janet I began to take control of my life.
"I'm disappointed to hear the funding had been cut ... We need her expertise. Maybe we should be setting up the GPSI service to strengthen, help and train other doctors."
In today's Hawke's Bay Today, the DHB placed an advertisement indicating the support of senior clinicians for their DHB colleagues and their diabetes care.
"Diabetes is a complex illness and the teams in Hawke's Bay are among the best in the country if not Australasia," the advertisement said.
Starship Children's Hospital paediatric endocrinologist Professor Paul Hofman supported the DHB.
"Based on data, childhood diabetes care in the Hawke's Bay region is not dissimilar with major centres such as Auckland and Christchurch and on a par with the best centres across Australasia," he said in the public announcement.
In total, 16 senior medical practitioners put their names to the statement.