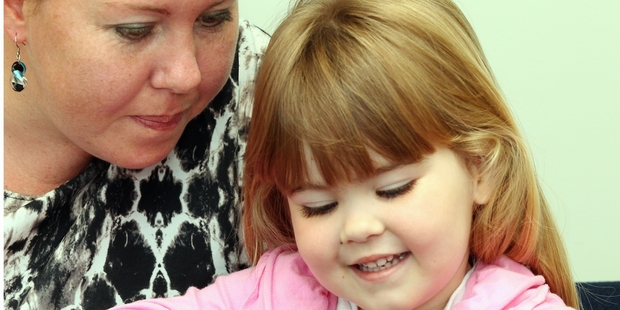 With a sensor in her stomach, 3-year-old Maddison McQuade can play happily without her parents worrying she might slip into a diabetic coma.
Maddison is the youngest diabetes patient in Hawke's Bay to be fitted with a device that transmits blood sugar information to a remote receiver.
Mother Rachel said it was rare for someone so young to have the disease.
"She got very sick last March, there were three or four days of being very tired and drinking lots," she said.
"I took her to three different doctors in 48 hours. The third doctor said to me on Saturday night that if she continues to vomit take her to ED, but I advise you go on a Saturday night.
"The following morning she came into me and she was breathing funny. I got my neighbour down who is a nurse and she said she was hyperventilating and her pulse was racing."
With her children in tow, Mrs McQuade drove to her mother's place so she could help with the children "but when I got there Madison was unresponsive in the car so I had to call an ambulance".
Madison was in the Intensive Care Unit at Hawke's Bay Hospital for three days and the children's ward for another four or five.
"We went very close to losing her."
She was diagnosed with diabetes.
"Since then we have had six visits to the paediatric ward, with most of them being overnighters."
Maddison does not qualify for an insulin pump subsidy, a device that would cost about $10,000 so her parents have opted for the stomach sensor, a more reliable way of monitoring her condition than counting calories.
The Dexcom G4 Platinum Continuous Glucose Monitor has a range of 6m.
"It has a transmitter that continuously monitors her blood sugar level. There is a unit about the size of an iPhone that graphs what her blood sugar level is doing 24/7."
She is hopeful Maddison will qualify for an insulin pump this year but have paid for the implanted device themselves to ensure her good health.
The hardware cost $2000 but the $125 sensor needs to be replaced weekly, which is difficult for the three-child single-income family to fund.
Donations can be made at givealittle.co.nz/cause/lilmisshypo.