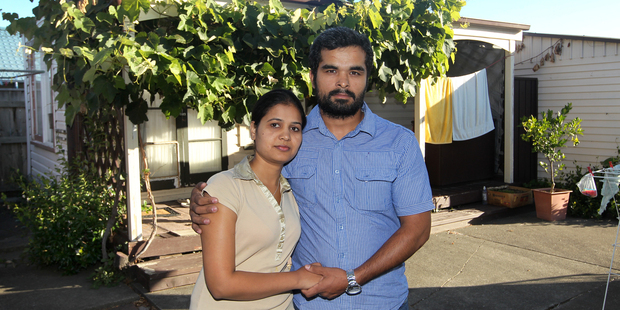 An Indian couple based in Hastings claim they have been forced into overstayer status by problems they believe were caused by a local law firm.
Buvnesh Mehta and his wife, Jaswinder Kaur, said yesterday that for the past year they have battled to be granted work visas but a series of issues with Hastings law firm Luscombe Legal, has meant they've been rendered overstayers and are liable for deportation.
Mark Luscombe, of Luscombe Legal, declined to comment when contacted yesterday afternoon but confirmed a complaint had been laid.
Both are now unable to work while they try to resolve immigration issues and are digging into their savings.
"It has been incredibly stressful," Mr Mehta told Hawke's Bay Today.
"We want to make a future here, we've been working, paying tax, paying our bills on time.
We haven't done anything wrong," Mrs Kaur said.
The couple have laid a formal complaint with the Law Society.
The couple, who arrived in New Zealand in 2009 on student visas, were both working in Hastings in late 2012 when Mr Mehta's boss at Pak'nSave employed the services of Luscombe Legal to assist with a work visa.
Mr Mehta said they were told on numerous occasions throughout 2013 that documentation had been filed to Immigration New Zealand (INZ) and that the firm was waiting on a response.
He claimed much of the documentation required by INZ was either not sent on time, was inadequate or was not sent at all, effectively reducing their chances of being granted visas.
They claim an employee at the law firm told them she would work on Mr Mehta's file in early April, almost two months before the couple's visas expired.
Despite several emails and phone calls during the next few weeks regarding the status of the application it was not received by INZ until the day the couple's visas expired at the end of May, they said.
They were granted interim visas while the application was considered, meaning they couldn't legally work, but could remain in the country.
At the end of June, INZ contacted the law firm to say it did not consider his position at the supermarket to be one where there is a labour shortage, but invited him to make further submissions.
Mr Mehta said they were asked to provide supporting material but that none of the forms were sent off until 15 days after they were due. "Whatever she asked for, we sent. We did everything she asked," Mr Mehta said.
The couple's complaint to the Law Society stated that on August 8, 2013, INZ wrote to Mr Mehta stating it had declined his work visa application and he was now unlawfully in New Zealand and liable for deportation.
However, they claim they were not informed the applications had been turned down until August 29, more than three weeks into the 42-day appeal period.
In an email from the law firm the couple were told "while the situation at the moment looks extremely dire, we are hopeful that this can be remedied with a short space of time".
Mr Mehta said: "We were told this Section 61 application, based on Jaswinder's offer of employment, was our last hope so we signed all the documents on September 13 and gave them all to the law firm."
On October 18, when the window of opportunity to appeal had ended, Mrs Kaur went to the firm's offices and attempted to speak to someone.
"I was told they couldn't talk to me, to come back on Monday.
"So I decided to call immigration myself to find out what was going on."
INZ informed her that the Section 61 application had not been filed and that the couple should not have been working while on interim visas.
"She'd told our managers that we could keep working like we had been but we weren't supposed to be.
"We were so surprised to hear that," Mrs Kaur said.
The couple met with Mark Luscombe on October 21 and raised their complaints with him, including the fact they were led to believe their Section 61 application had been filed, when it in fact had not.
The couple decided to lay a complaint with the Law Society.
"We just want a chance, it wasn't our fault."
They are now waiting for the outcome of the complaint to the Law Society.
"We've had to dig into our savings to support ourselves and we've been helped by our landlord, he's said we can stay in our house for free until we get everything sorted out."
The couple's landlord, who did not wish to be named, said the situation "has not been an easy one".
"To be told everything was underway and to have a bombshell dropped that hardly anything had been sent, it's been very stressful.
"We've done our best to stand beside them and encourage them, but it's not easy."
The Law Society said it could not comment on any complaints that are being investigated and could not confirm if one had been laid.