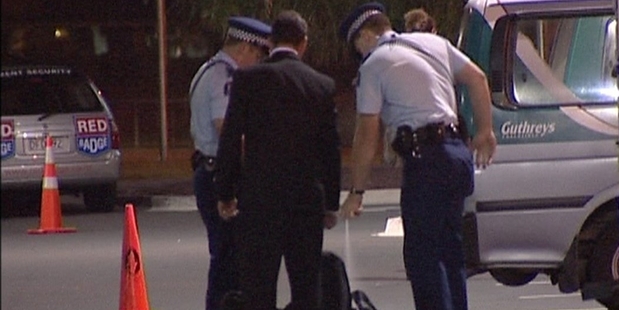 Police are defending their use of pepper spray as an effective deterrent and say the painful capsicum extract helps protect officers from physical harm.
The comments follow new figures showing Hawke's Bay police use of pepper spray to subdue offenders has risen.
Local police used the spray 100 times in the year to June 30, a dramatic increase on 37 in the previous 12 months and slightly higher than 98 in 2010/11.
Nationally, pepper spray use has remained relatively consistent, with police resorting to using it 1530 times in the last financial year, compared with 1515 in 2011/12.
Oleoresin Capsicum (OC) spray is about 1000 times more potent than jalapeno peppers.
It causes immediate closing of the eyes and a burning sensation, difficulty breathing, a runny nose and coughing.
The effects generally last about 30-45 minutes.
While the spray isn't lethal, it can cause death in combination with medical conditions like asthma.
In April last year Zane Korari Mete Lewis, 22, was accused of using his girlfriend and her one-year-old son as human shields when police pepper-sprayed him at his Waipawa home.
The pair took the "full force" of the spray after they were reportedly thrust in front of him during the altercation, police said.
Lewis admitted resisting arrest and escaping police custody, but two aggravated assault charges relating to the pepper spray incident were dismissed.
In June 2011 a police officer and an 82-year-old Dannevirke man were injured after a man withstood pepper spray and an electro-shock gun and assaulted them.
Local police declined to comment on the figures, referring questions to national headquarters.
A spokesman said pepper spray use fluctuated over time, and did not reflect any local trends.
"Despite these fluctuations, crime nationally has been steadily dropping in recent years, as has the number of assaults on police."
That was partly thanks to increased access to a range of tactical options, including pepper spray, and training.
"Any police response is ultimately dictated by the actions and behaviour of those we are confronted with at the time, with OC spray just one of a number of potential options police may use.
"First and foremost, however, an officer's best weapon is communication, which is successful in resolving the majority of situations we encounter."
Between March 2010 and June 2013, force was used in 0.2 per cent of face-to-face encounters.
Pepper spray was used in 32 per cent of those incidents.
As well as trialling more powerful OC spray and electro-shock guns, police have also expanded their arsenal of non-lethal options to include a "sponge round" which can be fired from up to 35m away.
Police received regular training on pepper-spray use, which focused heavily on sound judgment and good decision making "to resolve situations using the least amount of force possible, while maximising safety and minimising any risk to our staff, the subject and the public".
Any use of force by police had to be lawful, justified, reasonable and proportionate to the circumstances, the spokesman said.
In the mid-1990s, the US Department of Justice cited nearly 70 fatalities linked to pepper spray use.
However, New Zealand Police Association president Greg O'Connor said pepper spray was a safer alternative to physical force and hugely effective as a deterrent for offenders.
"Most people who have been pepper sprayed don't really want to be pepper sprayed again."
It was also one of the best ways to avoid injury, he said.
"Pepper spray reduces the risk to both [officer and offender] by negating the need to have that physical contact and grapple with people.
"So many injuries are caused by flailing arms and knees while attempting to subdue someone who's going through some sort of psychotic episode."
The stronger pepper spray trialled in the Bay of Plenty late last year would be effective on those offenders who didn't feel pain because of drugs and alcohol, Mr O'Connor said.APNZ