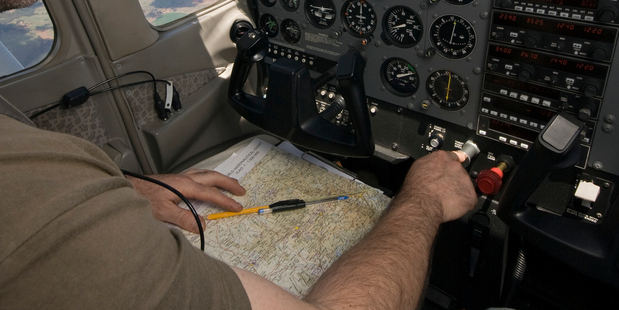 A man who flew a plane without a pilot's licence will have to serve 300 hours' community service. Photo / Thinkstock
A Napier man who flew a plane without a pilot's licence in "complete disregard for the safety of others as well as himself" has been sentenced to community work.
Brian Hunter, 54, was given a final warning by Judge Tony Adeane in Napier District Court yesterday and sentenced to 300 hours community work, after he pleaded guilty to one charge of operating an aircraft without the required documentation.
A court summary of facts said Hunter had previously appeared in court for offending under the Civil Aviation Act and the Crimes Act. In November 1998 he was convicted for operating an aircraft without appropriate and current documents, fraudulently making documents, placing others in unnecessary danger and falsely representing himself as a pilot with an instructor's rating.
In the latest offence, the summary of facts said Hunter expressed an interest in purchasing a plane in September 2012 and travelled to Mahia to meet the seller, Richard Coop.
Hunter introduced himself as Brian Shaw and told Mr Coop he had significant prior flying experience in New Zealand and Australia and had flown a number of different aircraft.
Mr Coop took Hunter on a flight out to Portland Island off Mahia Peninsula, at which point Hunter asked if they could do a circuit to Wairoa.
When flying from Portland Island to Wairoa, Hunter controlled the aircraft from the right hand seat of the plane.
Mr Coop then landed the aircraft and the pair swapped seats so Hunter was in the command seat.
The summary said Hunter completed two circuits from Wairoa.
"However, during the first approach to land, Mr Coop felt nervous about the way the defendant was flying the aircraft and briefly placed his hands on the controls. He did not, however, take control of the aircraft."
Hunter then completed a take-off and landing without concern and eventually swapped seats with Mr Coop, who flew the plane from Wairoa to Mahia.
Despite indications that he wanted to purchase the plane, nothing ever eventuated.
Some weeks later Mr Coop was discussing his experience with "Brian Shaw" with aviation associates and, concerned he may have been misled, decided to research the name Brian Hunter.
Mr Coop found a photo of Hunter on the Hawke's Bay Today website and subsequently contacted the Civil Aviation Authority, which began investigating. A statement from the Civil Aviation Authority said the sentencing yesterday had "sounded an alarm" to the aviation community.
"The audacity and severity of these offences is unprecedented by one individual. Our main concern is Mr Hunter's complete disregard for the safety of others as well as himself."
The CAA's director of civil aviation, Graeme Harris, said Mr Hunter was trying to "abuse the system".
"The CAA said the outcome and the sentence sent a strong message about the danger Mr Hunter posed to public safety. The judge commented that the offending presented a serious safety risk to the public.
"Mr Hunter has been placed on notice that any further offending of this type is likely to see a custodial sentence."
Mr Harris said the prosecution was a warning to all aircraft owners and operators that caution should be exercised before allowing other people to fly their aircraft.
"We must act to the full extent of the law where aviation safety is concerned. We believe the judge's decision of penalties imposed today is entirely appropriate for the offending."