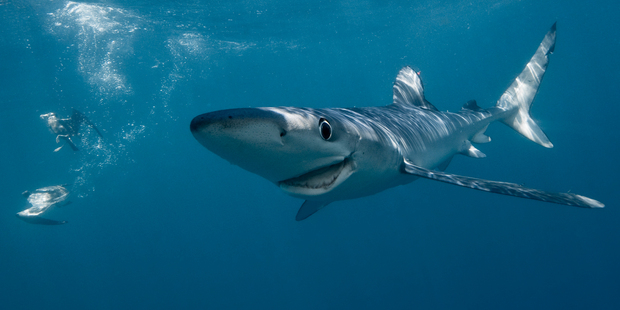 The coastal settlement of Waimarama is abuzz with stories a large shark has been spotted near Bare Island.
While no-one has come forward claiming to have seen it personally, stories of the large shark lurking around the small island near Waimarama Beach have got the settlement's rumour mill in overdrive.
Waimarama lifeguard Kieran Foley said he had heard and investigated the rumours, but the shark had not been spotted by the lifeguards.
"I've heard the stories, we haven't seen it though," he said. "There are a few stories that have gone round and I've done a bit of ringing around about it, but couldn't get a hold of anyone who has seen it."
He said he didn't want to speculate on the validity of the stories circulating.
"There's a chance. There's always sharks in the ocean so there's a good chance there is one out there.
"Sharks move around as well. They are going to move up and down the coast so it potentially could have been spotted round and then moved."
He said he hadn't heard any new stories lately.
"If we spot it or someone spots it we close the beach down for an hour after the last sighting.
"We haven't had to go to those sorts of measures."
Several locals spoken to by Hawke's Bay Today, and who dived in the area, were aware of the stories but had only heard them second hand.
Waimarama Store owner Keith Cross said his son dived regularly in the area but had not seen it.
He suggested it could have been made up to scare off diving competition for local paua.
"I've heard plenty of people talk about it.
"I haven't actually come across anybody who has actually seen it. They've been saying it for a while - whether they're trying to scare people off - I don't know. But it's possible. You always see sharks out there. But whether there's a really big one out there, I don't know.
"My son dives out there all the time and I asked him the other day if he'd seen it and he said no, but he'd heard other people talk about it."
Department of Conservation marine scientist Clinton Duffy said without a more accurate description of the shark it would be hard to tell what species it was, but speculated it was likely to be a blue shark, bronze whaler or hammerhead.
"Blue sharks have a tendency to investigate things by biting them but generally speaking bites to snorkelers and divers in the past have been superficial."
He said Great White's frequent Hawke's Bay waters between May and November but did not rule out the possibility of a white pointer patrolling the coast.
"I have seen a large Great White near the Mohaka River one year in February and often there are smaller ones found off Cape Kidnappers."