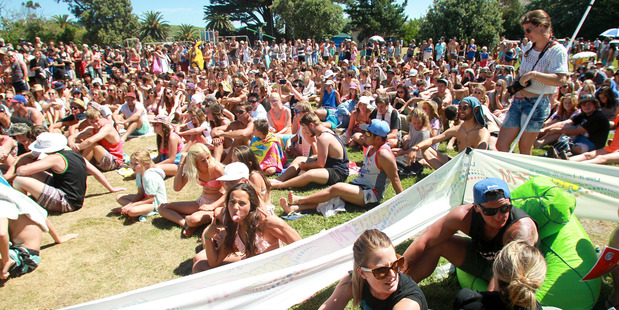 Thousands of people enjoyed the surf, sun and sand today during the annual Waimarama Beach Day.
On a hot Hawke's Bay day, with temperatures reaching 30C, about two thousand people flocked to the popular beach town for the traditional summer event.
The day's activities, hosted by More FM and the Waimarama Surf Life Saving Club, started with a beach dig at 10am before Hawke's Bay's young creative minds took to a sandcastle building competition with their spades and buckets.
A number of people opted for the traditional castle, surrounded by a moat filled by the encroaching tide, while others decided a more modern approach was required with turtles, mermaids, octopi, lizards and even Mickey Mouse all found carved into and moulded with the Waimarama sand.
At noon, the Dash 4 Cash contestants showcased their speed and for a chance to win $100 before the Hawke's Bay Coastguard performed a water safety exercise, that included flares, rescue vessel and an airplane.
Operational Rescue Vessel crew member Janene Hole said the demonstration was all
about creating awareness around boating safety.
Beach-goers Shannon Gearey and Bella Russell said the day was ``great fun'' and enjoyed the hot weather, the day's events and ocean swim.
The day's events finished with a wearable beach arts competition and the highly anticipated Miss Waimarama, which drew a large crowd behind the Waimarama Surf Life Saving Club.