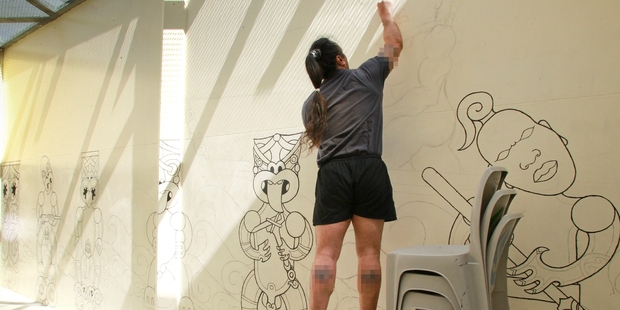 Watching a high security prisoner delicately and thoughtfully sketch images of his ancestors on prison walls was about the furthest thing from my mind when imagining prison life.
It was one of many surprising initiatives that have been introduced to the Hawke's Bay Regional Prison in the past few years and a far cry from the American prison documentaries I had watched in preparation for my visit.
Instead of a "lock them up and throw away the key" type of approach, prison manager George Massingham is actively encouraging rehabilitation and integration of the prisoners under his watch.
And it's a regime that appears to be working.
Mr Massingham tells me they have struggled to fill the newly opened youth unit but "that's good, that's what we want".
When I visit, three inmates in the youth unit are working on bird feeders, wine holders, candle holders and a variety of other goods that will eventually be sold in stores and galleries throughout Hawke's Bay.
Corrections officer Adam Corner tells me "his guys" never normally return to the prison after their release.
There are currently 580 inmates of which 80 per cent take part in some kind of employment.
Low-security prisoners run a fully functioning joinery with overseas contracts to export some of what they make.
"We're competing with the open market but the contracts we get we seem to keep," said Mr Massingham.
One contract has belonged to the prison joinery for 10 years.
Elsewhere, the kitchens and laundries are manned with inmates who can be assessed for NZQA qualifications while they work.
A corrections officer in the kitchen tells me that while there are probably only six or eight prisoners a year who achieve their NZQA certificates, they "have worked hard and put in the hours".
"It's the one industry where if you've got the qualifications and you want to work you will, everybody has got to eat."
Mr Massingham started at the prison five-and-half years ago and said when he began there was a desire for change without knowing how to go about it.
Keeping inmates occupied and motivated seems to have been a huge part of prison life.
A high security unit which had previously been "very sterile" now hosts a vegetable garden and a huge mural in the works.
"Drawing on the walls would have been graffiti up until a few weeks ago," said Mr Massingham.
"This is about encouraging. It's a mindset shift for us as well as the prisoners because this is abnormal. We'd like it to become the new normal. There's a big mindset and cultural shift that we've got to get through."
We are led inside one of the high security units to take a closer look.
One of the high security prisoners explains the mural and what it means to the 12 inmates who share the unit.
"This is all of our ancestors of all of the different fellas that pass through here, they're all from different places, so they can get into the kopapa. It's good, bit of a sense of pride."
Just outside a tennis court that was previously for staff has been re-purposed as an activities area for the high security prisoners.
Mr Massingham said sport now plays a huge role in daily regimes at the prison.
"That came off the back of the smoking ban, lots of people were bored, lots of people want to play sport, let's play sport. It's touch today but they play rippa rugby, softball, cricket, soccer. Doing things like that they bond, they're training together, they're not trying to fight each other. We changed how we operate by giving them something to do."
It's something that would never have been considered in the past.
"They used to play in their units but never together."
Hastings District councillor Henare O'Keefe often visits the prison and Mr Massingham credits him with being able to connect with the prisoners.
"He's a big supporter of the prison, he's worked out that you can't just chuck these guys out with the rubbish. If we give them a chance in here, they have more of a chance of success out there. He does everything from one-on-one counselling to numeracy and literacy, he plays the guitar, holds prayer, hosts group meetings, attends graduation. When he tells you, you need to be a dad not just a father you listen because it's not just someone in a blue uniform, he's out there in the community."
Mr Massingham said the cost of keeping prisoners locked up in the prison was about $266 a day, which includes departmental costs such as the provision of primary health care services and crime prevention initiatives.
Transport, courtroom supervision, prisoner employment and training opportunities as well as rehabilitation programmes and expenditure relating to the Parole Board all come into the total cost.
"People don't understand that if you come to prison, yes, you've committed a crime, but actually you are going to come out, and hopefully you're going to come out a better person than you went in," said Mr Massingham.