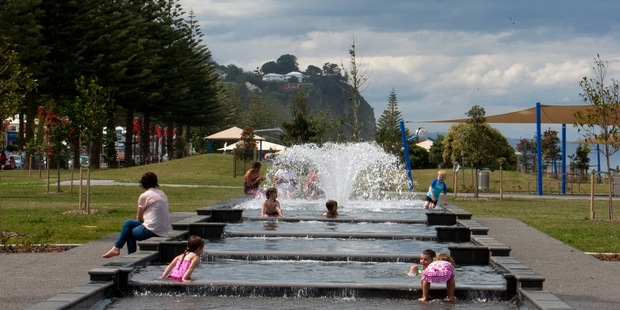 A new water feature designed for aesthetic appeal in the makeover of Napier's Marine Parade has quickly been adopted as a free swimming and play pool for the young, and not so young.
While it may not please some people, Mayor Bill Dalton says the council isn't about to send "the Gestapo" down to spoil the fun.
But he says parents and others looking after children do need to keep an eye on what they are doing around the unfenced pools in the feature which has three fountains and flows down four levels on a block of foreshore just north of the National Aquarium.
"It was never intended as a kids' paddling pool, and parents do have to be aware the water is not treated for that purpose," he said. "It is designed to be looked at, not swum in."
"We have no intention of coming down heavy-handed. Kids will be kids wherever there is water."
Former mayor Barbara Arnott, whose 12 years in office were dominated by debates over the Marineland closure which led to the Marine Parade makeover, also reiterated the water feature was not intended for paddling or swimming, but had envisaged children would not resist the new opportunity, as they had with the Spirit of Napier feature south of the aquarium, and the Tom Parker between the Soundshell and the War Memorial Conference Centre.
One Hawke's Bay Today reader asked "Where's the fence?", while Marine Parade motellier Gerard Averous notes that while children have flocked to the water, with towels and beach gear, adults are often seen sitting at their edges dipping their toes, while "eating fish and chips".
When Hawke's Bay Today visited, three adults were dipping or bathing, and six children were playing, including Havelock North brother and sister, Reid Hooper, 6, and Rosabella, Hooper, 3, and new-found playmate Peyton Ahern, 4, of Palmerston North.
Looking-after her nephew and niece as they frolicked in the water, Wendy Hooper, of Masterton, said: "It's gorgeous. I wasn't sure whether they were supposed to [swim], but others were doing it so ... why not?"
Terry Bristol had come from Palmerston North for the day to cycle the pathways, but as they passed the water feature, which was completed less than a month ago, it was too much for grand-daughter Peyton, who within minutes was romping through the water with Rosabella. "They just met," Mr Bristol said.
Historically, there had been free-use paddle pools on the site now occupied by Ocean Spa to the northern end of the Parade.
In September 2012, the Napier City Council unveiled plans for a redevelopment of the parade as a playground for children "of all ages".
The water feature, landscaping with knolls, shaded areas and barbecues, and a junior cycle track have since been put in place and the council is seeking possible venture partners for commercial attractions, with a wave park and a cable ski complex among the suggestions.