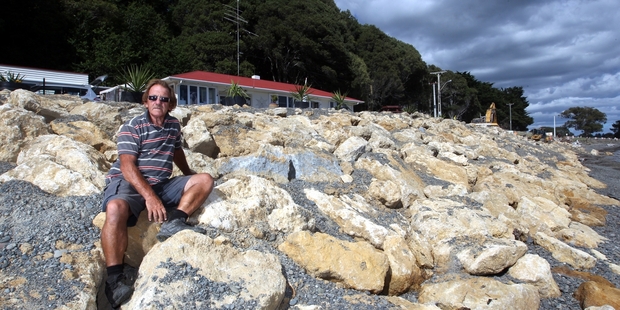 Clifton locals are delighted a new sea wall is in place to slow erosion at the beach settlement but an international expert warns the Hawke's Bay coast faces ongoing erosion problems.
Hasting District Council spent about $200,000 on the 80m-long limestone sea wall, known as a revetment. The council trucked in about 3000 tonnes of limestone rock for the project, which was completed about two weeks before Christmas.
Bob Pollock, manager of the Clifton Motor Camp, said he was delighted the wall had been completed on time and very appreciative of the work the council had done.
While the wall has yet to be tested in storm conditions, "it has been designed by engineers - if they think it will last it should last".
However, an international expert called in by Hawke's Bay Regional Council to report on coastal erosion issues up and down the region's shoreline, has warned of ongoing problems for Clifton and elsewhere as sea levels are forecast to rise.
Professor Paul Komar, emeritus professor of oceanography at Oregon State University, is writing a report for the council on "barrier breach responses" between Tangoio in the north and Clifton in the south.
Professor Komar has consulted for the council since 2005 and was in Hawke's Bay in November to discuss an initial draft of the report with council staff. He also met with Clifton residents.
"We do what are called sediment budgets, to measure how much sediment the beach is gaining from rivers and from sea cliff erosion versus how much is being lost," Professor Komar said.
"[Clifton's] balance is really in the red, which makes for a very bad situation. It's a very difficult problem to solve right now, then you think about the next 50 years with rising sea levels and the waves getting even stronger." Professor Komar's final report is expected to be completed next month.
The regional council's group manager of asset management, Mike Adye, said the report would be shared with other councils in the region because it was vital for the region to take a unified approach on erosion issues.
"We have time at the moment, but the longer we leave it, the problem isn't going to go away," Mr Adye said. "So what we'll be seeking is agreement from all of the councils for a single approach.
"At that time we will have Paul's report to use as the basis for that."
Meanwhile Mr Pollock said the Clifton Motor Camp was near full capacity as holiday makers revelled in the fine weather over the New Year break.
"You've got to be a sardine to get in," he said.