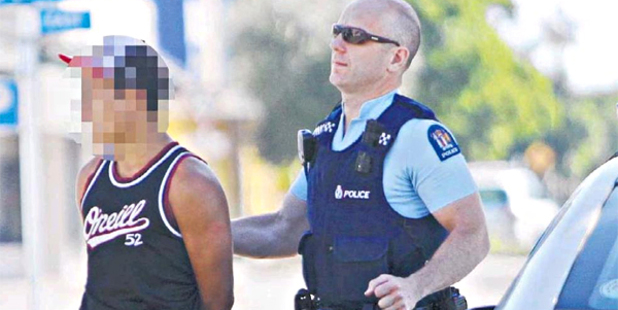 Two men face violence charges after separate assaults in a mini-wave of attacks with weapons as the new year began in Napier yesterday.
Three incidents were reported, two requiring victims to be taken by ambulance to hospital in Hastings for treatment, after which both were discharged.
All three incidents were well away from the major revelry on Marine Parade and the packed bar quarter of West Quay.
Detective Sergeant Nic Clere, of Hawke's Bay CIB, said a 19-year-old was charged with assaulting a female but may face more serious charges after an incident in which a 26-year-old woman was cut when struck by a bottle in suburban Pirimai.
The two had been at separate addresses in Titoki St before the incident happened in the street about 12.30am, Mr Clere said.
Slightly more than an hour later, police were called to an address in Te Awa Ave, near Napier's southern seafront boundary, where a 50-year-old man was bashed with a metal bar.
A window was smashed to force entry into a sleep-out. Mr Clere said three females were also in the sleep-out when the clash happened between the 50-year-old and a 44-year-old man, who are apparently known to each other.
Police found the younger man at another address, and he was charged with aggravated burglary, wounding with intent to cause grievous bodily harm, and cultivating cannabis.
The incidents occurred alongside 22 arrests in Napier on New Year's Eve and into the early hours of yesterday, for a mix of "alcohol-fuelled disorder" and assault-related offences, Mr Clere said.
Three people were arrested in Hastings and three others in Waimarama. Police Senior Sergeant Stuart Fleming said the region's traditional areas for major crowds and revelry on New Year's Eve - Napier and Waimarama - were "staffed heavily" in a bid to minimise problems.
Officers are also investigating a knifepoint robbery of a woman reported to have happened just before 2.20am in Munro St, near Pak'n Save.
Acting Senior Sergeant Clint Adamson said there appeared to have been "some delay" before the woman was able to report the mugging.
The woman had been forced to hand over a handbag and its contents during the incident.
The offender fled, no arrest had been made and inquiries were continuing, Mr Clere said.
The two charged in connection with the assaults are due in court today.
Meanwhile, Hawke's Bay emergency services were kept busy by revellers but they reported a routine start to 2014.
St John district operations manager Stephen Smith said New Year's Eve had gone as expected for the ambulance staff in the region.
"We were very busy but we put on extra resources to manage that workload and we successfully got through the night with no serious incidents and managed to do everything we needed to do," Mr Smith said.
"There was a lot of revelry, obviously, but everyone's enjoyed themselves and there were no serious incidents."
The biggest party night of the year proved too much for some, however.
Hastings Police arrested an intoxicated young man shortly after 9am, after a window in the central business district was smashed and a resident was subjected to abusive behaviour.
The man was taken into custody and placed in Hastings Police Station for detoxification.